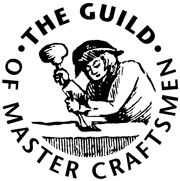 Twenty years ago, English Heritage (now Historic England) published its first-ever Register of Buildings at Risk across England, which featured nearly 2,000 buildings and monuments that were 'neglected, broken and unloved'. Recently Historic England was delighted to announce that over two-thirds of those buildings were now safe, in both urban and rural areas right across the country.
While this outcome was largely due to the collaboration and expertise of a wide number of professionals, it was also in no small part thanks to the dedication of craftsmen and women who provided their expert skills and services. There is still much to do in the future – but this was a positive step forward by those who work to protect our heritage.
The Guild of Master Craftsmen has been championing British craftsmanship for nearly 40 years – and its members are a diverse range of craftspeople and traders who are masters of their particular craft.
A number of the Guild's members work in heritage and property restoration, not just in England, but throughout the UK – from northern Scotland to the tip of Cornwall.
Each member offers their own extremely high-quality expertise and specialist knowledge in the field, while keeping alive the traditional skills and abilities needed to restore buildings and help breathe new life into heritage properties across Britain.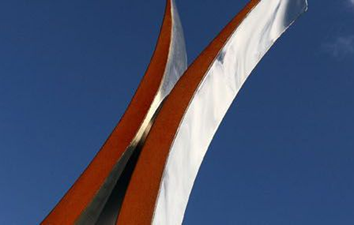 Corten sculptures - conservators are playing catch-up with preservation techniques

As Corten becomes increasingly popular for use in outdoor sculptures, conservators are playing catch-up with their preservation techniques. Peter Elliott of Nottingham-based All Steel Fabrications Ltd, specialists in the collaboration, fabrication and installation of Corten steel and other ctainless steel sculptures, offers this valuable insight.

Click here for the full story
Fine craftsmanship is perhaps more important than ever before. Thankfully, the demand for more traditional skills, vital when restoring sites to their former glory, is on the increase.
Only the best craftsmen and women make it into the Guild, and its members are, therefore, already well equipped to tackle any suitable work, including vital restoration projects. The Guild's thorough checks on companies and individuals hoping to join this unique family ensures that quality runs all the way through it.
For those who belong to the Guild, membership is all about the support that the Guild provides and the recognition that the Guild mark of excellence gives them.
And it's not just at national level where Guild members are making their mark. Their broad geographical spread means that smaller local projects, just as important to those who live nearby, are also receiving the quality touch.
The Guild may be a national organisation, but the effect its members can have locally is also profound. This is reflected in the diversity of work found in the building industry. Guild members today are repairing ancient stone walls, undertaking plastering work, thatching roofs, damp-proofing walls, restoring timber frames and ensuring that complete rebuilds and projects are finished on time and to specification.
Of course, it's not just the high-profile buildings that need attention and vital work. Homeowners lucky enough to live in listed buildings have a duty to ensure that their properties are kept in good order, as do local authorities and councils. Many call on Guild members to provide the expertise they need.
The Guild of Master Craftsmen is made up of tens of thousands of craftspeople working in more than 400 trades, crafts and professions.
Some practise the traditional crafts that were in danger of disappearing until not long ago, but are now much in demand. This includes producing wrought ironwork, stained glass windows and thatched roofs. Those working in the heritage trades also include antique restorers, bell hangers, artists and sculptors, and gilders who apply 22-carat gold leaf on fine furniture.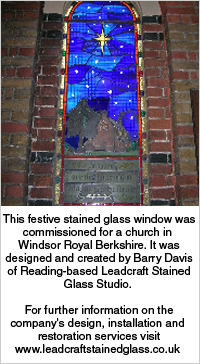 Some requests that the Guild has been able to help with over the years include a request for soft furnishers to work on repairs in Kuwait, a glass restorer to work on a 200-year-old glass goblet, building restorers to repair a wooden mosaic frieze on a house and a request from Germany for enamellers to make reproduction jewellery.
Membership of the Guild of Master Craftsmen has included members who are kilt makers, bagpipe makers, miniaturists, dolls' house makers and rocking-horse makers, toymakers and figurine painters.
In the field of ecclesiastical renovations there are creators of fine church textiles such as stoles and chasubles, statuary and furniture.
Guild members come from a wide variety of backgrounds; from traditional craftsmen and women such as cabinet makers, French polishers, furniture restorers, upholsterers, blacksmiths, masons and stoneworkers, through to modern day bricklayers, plasterers, plumbers and technicians – all masters of their trade, either ancient or modern.
A growing number are involved in the newer industries 'born out of our times' – with modern technology enhancing and supporting the traditional work carried out by talented craftspeople.
Those wishing to join the Guild will find that it is by no means an automatic entry. As a tradesman or woman you need to show that you have earned the right to be called a 'master craftsman'. This is through the quality of your work, your commitment to customer care and the level of service you can provide. You are required to be skilled, reliable and accountable. And once you are accepted into Guild membership you need to maintain the aims and objectives of the Guild to continue your membership.
In return, helping members deliver high levels of skill and expertise is an important part of the Guild's ethos. Advice on business matters is just a phone call away if you are a Guild member. You can call the organisation and its specialist partners for all manner of information; this includes access to a legal advice team, a conciliation service and a business review service provided by the Guild.
Marketing support is another benefit which helps relieve the headache of running a business – and as a member you will have your own free mini website, plus sales and marketing advice, such as how to develop a marketing strategy. You need to know how to get noticed in a crowd and how to grow as a business. Furthermore, you will have the benefit of extensive discounts and savings on business expenses as part of your Guild membership.
The public has real confidence and trust in Guild members while businesses large and small have long valued their Guild membership. The benefit of displaying the Guild logo confers prestige and reputation its members and their businesses.
The Guild is fully supportive of its members and spreads the word about their skills, integrity and diversity. Working with the Guild you can help drive traffic towards the site and help promote your business.
Heritage restoration is just one area to have benefited from Guild members' expertise. The Guild, however, does not focus on one particular craft or trade; its aim is to unite a variety of professions, giving all those who work with skill and integrity a chance to proudly display the logo.
This means that the Guild is ever growing, very flexible and is always striving to further the interests of its members and protect their businesses – and the public they serve.
If you would like to enjoy the advantages of being a member of the Guild of Master Craftsmen, please complete the enquiry form on guildmc.com as a first step to becoming part of the UK's most established trade association.
Reference: historicengland.org.uk/advice/heritage-at-risk/20-years/
You can find a selection of Guild members near you in the online directory here.