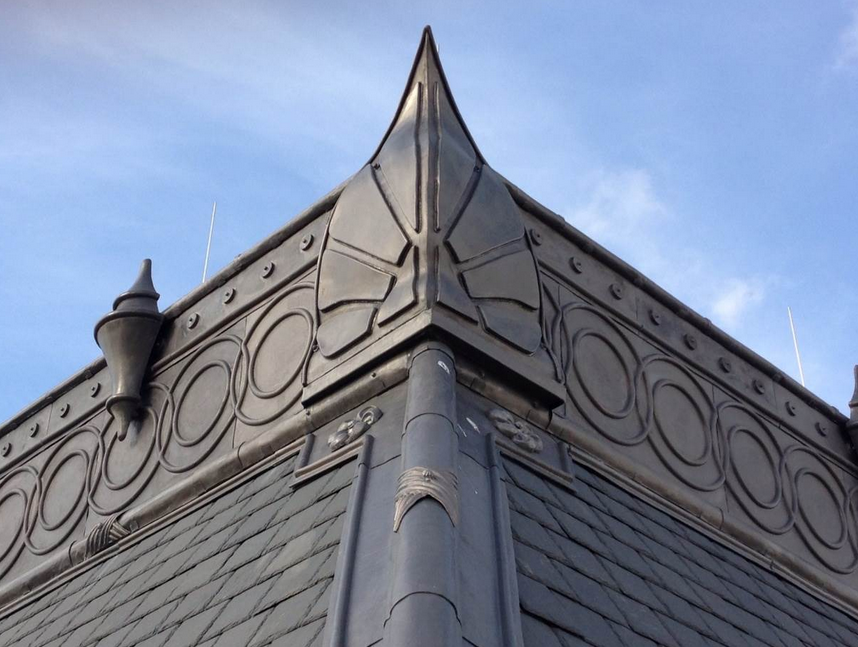 Associated Lead Mills' involvement in the £22m remodelling and enlargement of Africa House in London's Kingsway entailed supply of lead for the creation of a new two storey lead and slate mansard roof. JM Architects, led by Michael Ashenheim, specified the materials as a consequence of local planning requirements.
Lead dormer windows, corner finials and a wealth of detail work were fabricated by ALM for the Grade 2 Listed building. Due to their size, decorative panels, corner finials, rose and ribbon hip details had to be handmade in the company's workshop for delivery in sections to site. Work therefore included provision of CAD details prior to the creation of patterns for casting.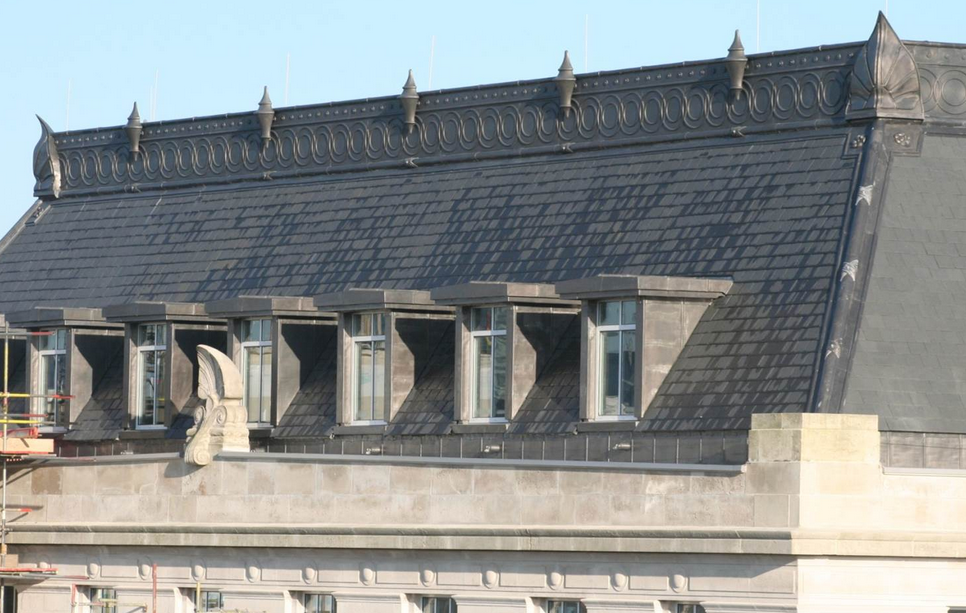 The main crown detailing covers 110 square metres with Code 8 lead used for corner finials, Code 5 for capping and 2mm galvanised steel for the secret gutters. Inspiration for the finials came from St Michaels Abbey, Farnborough while that for decorative ribbon details on hips was inspired by similar features on a building in Regent Street. The top section was made in Code 3 lead using an internal metal frame. The original was thought to be around 150 years old and apart from the frame having rusted it was still in good condition. The new work will probably last for another 150 years and involved nearly 100 pieces of individual lead being soldered together. Its support ropes go through the structure, with stainless steel wires attached to the main dome below.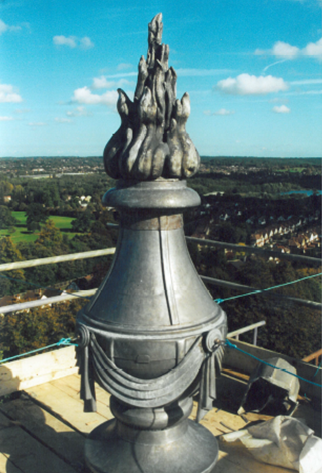 The finials are Code 6 bossed lead and are hollow with a Code 8 welded back. They have a 10mm stainless steel plate fixed internally and bolted through the lead. Shell corner finials are also made from Code 8 with the external roll edge carrying a stainless steel rod to provide structural stability.
Allan Anderson of sub-contractor Architectural Lead and Metalwork commented, "To be involved in such a project is probably a once in a lifetime opportunity. The building was designed to achieve a BREEAM 'Very good' rating for the owners, Freshwater International Property Developers' Group. Part of the building's intrinsic appeal is its external period features so in adding the mansard roof as part of an enormous 'loft conversion' it was essential to retain and enhance the building's overall aesthetic value".
The overall contract for leadwork was awarded to specialist contractor T&P Lead Roofing Ltd., which is approved by English Heritage and the National Trust and an approved installer for Burlington Slate. The company has carried out significant projects on behalf of the Royal Palaces (Buckingham Palace, Hampton Court Palace, Kensington Palace, St. James's Palace and Clarence House) and many historic buildings in the London area such as The British Museum, The Victoria & Albert Museum and The Greenwich Naval College, to name but a few. Materials were supplied through Alltype Roofing Supplies in Plumstead.
To find out more about metal supplies from ALM, visit www.associatedlead.co.uk