This summer saw West Country-based Fullers Finer Furniture complete a number of deliveries across the water in Northern Ireland. The first was to the Salvation Army's new premises in Larne, County Antrim – just a short distance from the ferry port. The order was placed following introductions at the Christian Resources Exhibition in Manchester. It was for the company's trademark York lectern, a Holiness Table and, more unusually, three flag stands.
The furniture was completed in a natural oak finish. The York lectern was fitted with a mic socket and tablet lip, ready to facilitate the latest technology. The lectern bears the Salvation Army crest, hand-crafted in a complementary wood.
Each part of the crest represents an element central to the faith of the Salvation Army and the meaningful symbol is recognised throughout the world. The lectern, together with the matching Holiness Table and the flag stands, were all beautifully finished ready for use in the brand new, state-of-the-art building.
The second delivery was to St Joseph's Boys School in Derry. The school, which caters for over 700 young people, took delivery of a fixed-height lectern, built to meet the school's specification and completed with the school logo. This is displayed on a clear acrylic panel attached to the front of the lectern and comprises a Celtic cross and the word 'Veritas', meaning truth. It is a practical lectern, robust enough to cope with everyday school life, yet evoking quality and craftsmanship.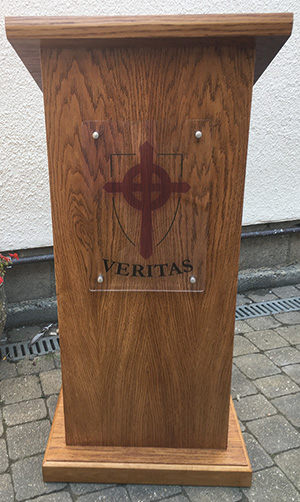 The third delivery was to a funeral home in Ballynahinch, a small market town in County Down. The requirement this time was for an easily moveable fixed-height lectern for use in services by the funeral home.
Altogether, it was an interesting summer, showcasing the suitability, adaptability and craftsmanship of Fullers Finer Furniture.
Award-winning lecterns are best sellers
Timeless and versatile, Fullers Finer Furniture's award-winning Canterbury and somewhat larger York lecterns have earned their place on the best sellers list. Each lectern is fitted with a fully adjustable gas strut height control – allowing the height of the lectern to be changed at the touch of a lever – and they are fitted with castors for ease of movement and finished to the highest standards of craftsmanship: but there the uniformity ends.
The lecterns are available in a number of finishes, including oak, ash, mahogany and beech, or can be colour matched to the client's own specification. Contrasting embellishments consisting of arches, crosses or a unique logo can be used to further distinguish the lectern. Adjustments can be made to ensure compatibility with any technical equipment in use in the building or any personal requirements of the user. At Fullers there is no standard production line; each lectern is truly unique.
For further information visit www.fullersfinerfurniture.co.uk