Newtech was awarded the contract to design and install a new audio visual system for Ealing Green Church, West London. The church was to undergo a complete refurbishment and as part of these works a new high quality sound and video system was required.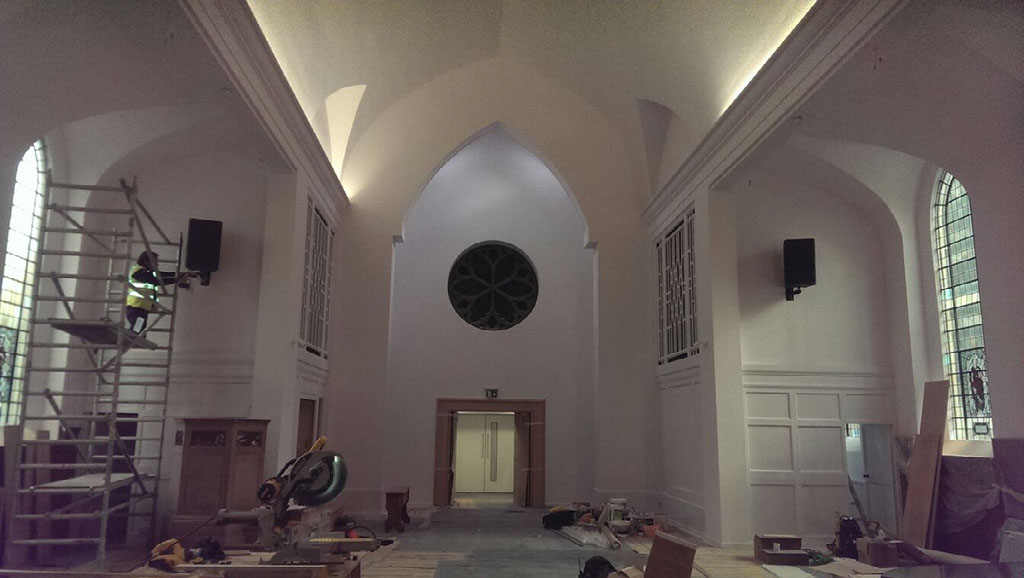 Newtech work closely with the client, architect and site manager to design a system which would serve the church for all occasions
The church required multiple floorboxes each with a variety of audio / video inputs and outputs, these would allow for the system to accommodate all types of services and events to be held in the church.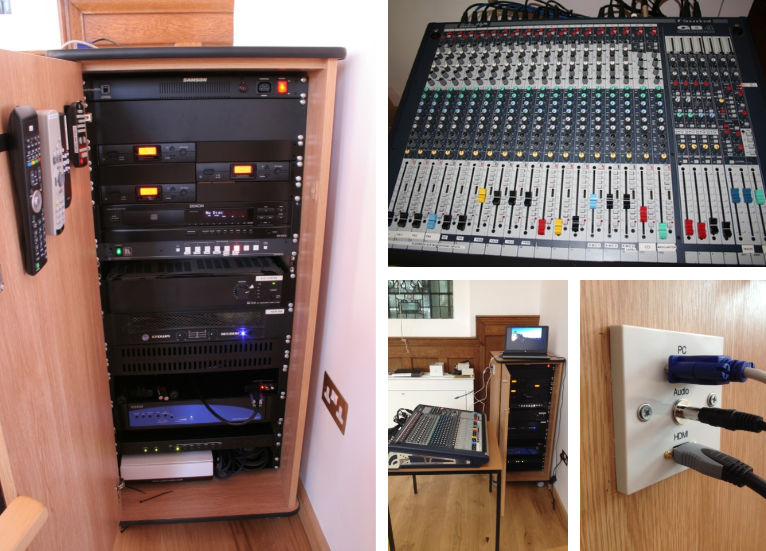 The existing mixing desk was integrated into the new system with all control equipment housed within an Oak equipment cabinet.
The churches existing projector was floor mounted in the balcony projecting onto a portable 3.5m screen that can be setup when required. The image displayed on the projector was simultaneously sent to all floorboxes allowing the portable 55" TV screens to display the same content from anywhere within the church. This provided an AV system that was fully adaptive to to the space.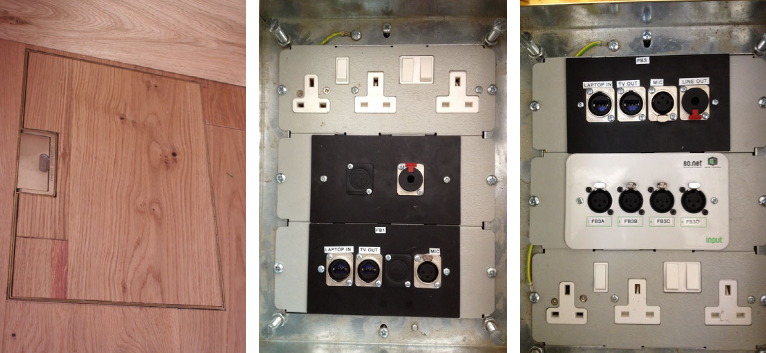 Recessed floorboxes featured power sockets, microphone/mp3 player / laptop inputs as well as audio & video output connections.
Foyer speakers were installed and linked to the church sound system to allow the foyer to act as an overflow space for large events.
An induction loop system was installed for the benefit of hearing aid users.
Ealing Green Methodist and United Reformed Church
"I don't think we can thank Newtech enough for not just the installation of the AV system in our refurbished space, but also the manner they have made this a reality. You have helped us at every step of the way from the definition and then refinement of the requirements, working within our very tight budget and ultimately implemented a flexible and scalable system that is aligned with the goal of the refurbishment to have flexible use of the church space whilst also allowing for growth for the foreseeable future. The design and implementation of the AV component was a late addition to the overall refurbishment project, but Newtech were able to still come through, listen carefully to our goals, constraints and issues, and work seamlessly with the other firms already onboard to make our vision a reality. In the process, you saved us money wherever possible and even provided higher spec equipment so that ultimately you delivered to schedule, within budget and over-delivered on scope! The system is so much simpler to use, allowing a greater range of users to operate it with little training or instruction, and we are very much enjoying using it". Mr. Chidiya - Ealing Green church
For further information visit www.newtechsouthern.co.uk