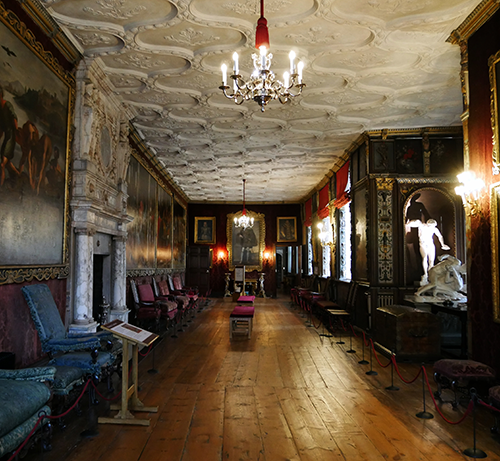 Knole is in the throes of a £19.8 million conservation project, the largest ever undertaken by its owners the National Trust. The conservation and restoration of this 600-year-old property is firmly focussed on ensuring that its aesthetic is empathetic to its heritage and is historically accurate.
In the Cartoon Gallery named after the Raphael cartoons that hang in this the longest of Knole's galleries, bespoke chandeliers have been manufactured by Dernier & Hamlyn to designs by the lighting designers, Sutton Vane Associates. They were cast in solid brass and hand finished in silver in a traditional Knole style that was adapted to include LED spotlights fitted to the baluster which are used to highlight artworks. The chandeliers replicate those that previously hung there, evidenced by historic photographs and archival material.
Knole chandeliers have been extensively copied and adapted by many companies. Dernier & Hamlyn's vast online collection gave the lighting designers a wide choice of styles and finishes and allowed them to select exactly the style and finish they wanted to suit the house's interiors and brief.
Helen Fawbert, house and collections manager at Knole said: "We love these chandeliers and it's great to see them back in the space where they belong. Visitors who know about their history are impressed by the improvement. While for those who don't they are part of the interior décor as if they've always been there which means we've done a good job."
Mark Sutton Vane of Sutton Vane Associates said: "We have been specifying chandeliers from Dernier & Hamlyn for many years. Their chandeliers always look superb and are very well made. Like Knole itself, they stand the test of time."
For further information visit www.dernier-hamlyn.com