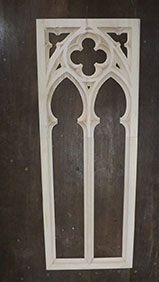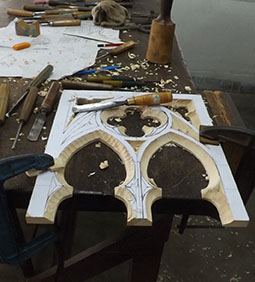 In addition to ecclesiastical projects, Agrell Architectural Carving are often requested to provide hand carving in the Gothic style for private residences around the world. Whether it's for a kitchen, a bathroom, some furniture or a whole manor, the Gothic style continues to be as popular now as ever before. Kate Agrell takes up the story:
"One of our recent projects was to provide a joinery company with 37 hand-carved Gothic tracery panels. These are to be placed in the furniture for a kitchen, bathroom and library at a private residence. As you can see from the photographs (left and right), the designs are marked out and all the Gothic tracery panels are carved by hand – no CNC's – to ensure beautiful, clean and crisp lines providing the highest quality product for the client. Due to our large team of carvers we were able to provide a high quality product, consistency in carving and delivery of the 37 hand carved panels in just over a month.
"A larger project was for a new residence, Malinard Manor in Austin Texas, designed by Cravotta Interiors. The architectural carving throughout the house totalled around 15,000 hours of hand carving. This included 166 hand carved panels – each one a unique design. Other panels around the house were of linenfold and carved images typical of the period but special to the present day client. The huge private bar was constructed, hand carved and installed by Agrell Architectural Carving.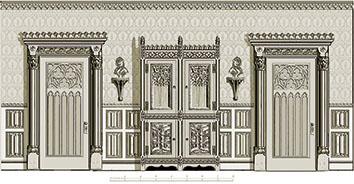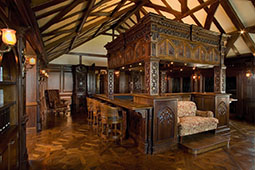 "To assist the clients, we pre-designed four historically accurate rooms. These designs can be found on our website and can be mixed and matched and developed to suit a client's needs and budget. One of these rooms is the 'Gothic Revival-Style Room' (left), which takes elements from English churches and period Tudor houses. The design shows magnificent examples of linenfold panels, tracery, carved cornices, fire surrounds and furniture. Clients are often interested in integrating carving into mirror frames to hide televisions, making cabinets to incorporate a work station or personalising with their unique monograms or coat of arms.
"Agrell Architectural Carving are a family business with a long standing reputation of providing clients with high quality hand carving, dedicated account management and reliable delivery. With offices in the USA and UK we can deliver hand carving for projects all over the world."
For further information visit www.agrellcarving.co.uk or contact Kate Agrell at 01233 500252. You can follow Agrell on Twitter at @IanAgrell.