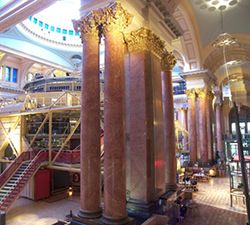 The Scagliola Company is a Leeds based company who are solely devoted to the manufacture, installation and restoration of Scagliola artefacts operating in the UK, Europe and worldwide.
It is a highly specialised organisation employing diverse personnel for specific projects that range from private interiors, luxury hotels, stately homes and super yachts.
The practice was established in 1986 and under the guidance of Michael Koumbouzis, was able to make the undeniable and timeless beauty of this high craft known to architects and designers, who have in turn used it in their projects and in many elegant interiors. The company has co-operated with some of the most important architectural and design practices worldwide and has enjoyed an ongoing relationship with many classicists who have used Scagliola with imagination and thoughtful perception.
Among the company's many prestigious projects you will find Buckingham Palace as one of the more famous carried out by Michael.
The team is also involved with restoring antique 18th and 19th century Scagliola in situ, offering analysis and report facilities whilst smaller items are dealt with in the conservation studio. Siena, Spanish Brocatelle, Porphyry, Giallo Antiquo, Verde Antique, Lapis Lazuli, Malachite and Jasper are just some of the finishes the company have repeatedly used. These finishes are used to make full size architecturally bound columns and pilasters, inlaid table tops, pedestals and cladding panels for the most prestigious projects which future generations will undoubtedly enjoy.
Due to the high profile status of some of the clients and the sensitive nature of the interiors dealt with, The Scagliola Company cannot show visuals of many of the projects due to confidentiality clauses.
However, a fine example of the company's work can be found at the Royal Exchange Theatre, Manchester where restoration was completed in 1998 following the IRA bomb: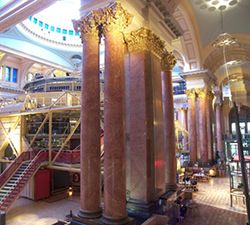 Restoration of the colossal Scagliola columns and piers that are probably the
largest in Europe. This "8th wonder of the world", "the hub of the universe"
as it was claimed at two moments in the building's life - when it was twice
the size it is today - was restored after the blast of the IRA bomb in the
centre of Manchester. Bellman, Ivey and Carter provided the original Scagliola
in the 1880s which was made in panels in their workshop and assembled on site.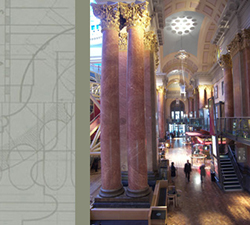 The colour of the Scagliola imitated the marble that was in the Old Hall. Visitors
and Mancunians alike can enjoy the public monumental space with its imposing
group of columns and abundant natural light.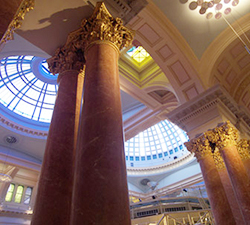 A colourful scheme and pockets of light descending from the glass domes
highlight the Scagliola.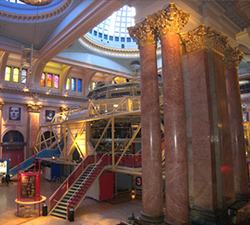 The modern day theatre with its spider legs is suspended off the relatively
thin floor and is supported by the huge Scagliola piers that envelope structural
concrete.
• To find out more about the fine Scagliola work done by Michael Koumbouzis visit his website www.scagliolaco.com