A unique register of heritage roofing specialists is providing much needed help and assurance for architects and specifiers when working on heritage projects. The Register is the brainchild of the UK's largest roofing trade association, the National Federation of Roofing Contractors (NFRC).
Designed to ensure that the roofs on some of the UK's most precious buildings are restored to the highest standards possible, this register - entitled The National Heritage Roofing Contractors Register - provides an exclusive listing of only those roofing companies that have the vital skills and experience necessary for the repair and renovation of heritage projects.
Ray Horwood CBE, former Chief Executive of NFRC explains: "Successful cultural heritage preservation is not just dependent on the meticulous planning provided by architects, it relies very much on the involvement of specialist craftsmen who are qualified to work on heritage sites. When it comes to roofing, their knowledge and experience is invaluable.
"From concept to completion, the importance of roofing design in heritage preservation can never be under-estimated. The Register is already proving popular with architects and specifiers alike, and it is widely being seen as a 'guarantee of confidence' in specialist roofing knowledge and expertise," adds Ray.
Comprised of companies located throughout the UK, The National Heritage Roofing Contractors Register features roofing companies that fall into one of three categories. Firstly, there are Heritage Roofmasters who provide both technical design and quality workmanship and secondly, there are Heritage Craftroofers who assure quality workmanship at all times. Lastly, Heritage Craft Roof Operatives carry out the work as specified.
The National Heritage Roofing Contractors Register is endorsed by English Heritage, Cadw Welsh Historic Monuments, the Environment and Heritage Service for Northern Ireland, Historic Scotland, The National Heritage Training Group and CITB. NFRC is also a board member and plays a leading role in the National Heritage Training Group (NHTG).
You can find an NFRC Heritage Registered roofing contractor here in the roofing section of our online directory. Look for the NFRC logo.
Grade II Listed Georgian cottage by Broadstairs Roofing
This cottage was badly blighted with a modern concrete tile and a dormer cladded in white UPVC, giving the cottage a dated and depressing appearance. Broadstairs Roofing removed the concrete tiles and replaced them with Kent peg tiles. The dormer was leaded, the clients were delighted with the new look of their roof.

The client was delighted with the final result, saying: "Thanks to John and his staff, the roof has been restored to its original glory, they worked with enthusiasm and genuine interest restoring the roof."
For more examples of the company's stunning projects visit www.broadstairsroofing.co.uk.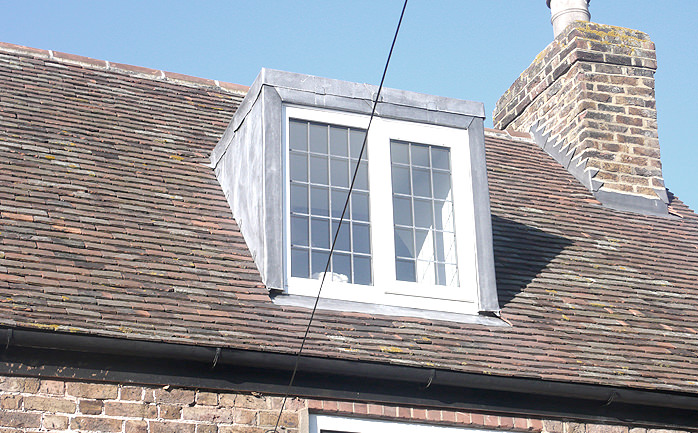 Martin-Brooks begins landmark castle project
Sheffield roofing specialists, Martin-Brooks, are playing a pivotal role in one of the UK's most significant heritage regeneration projects of recent years.

The firm has secured a contract to undertake the largescale refurbishment of Nottingham Castle's roof, as part of a £30 million scheme to regenerate the entire site.
Click here to read the full story.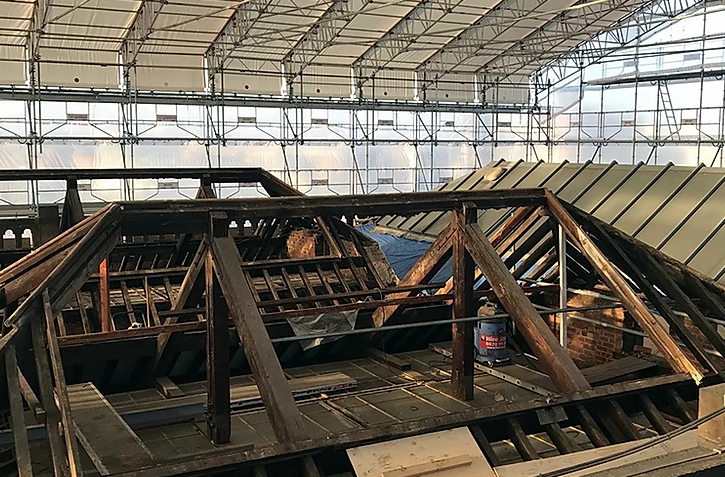 Help! Does my oast cowl need cleaning?
Since 1937, Dude and Arnette have been cleaning oast houses across the country, both inside and out. The company's specialist team can clean, paint and maintain your oast house to the highest standard, bringing joy to many more generations. So, if your oast house is looking a little drab and dated, maybe it is time to give it a clean. Here DARREN HOLE of Dude and Arnette answers some common questions.
Click here to read the full story.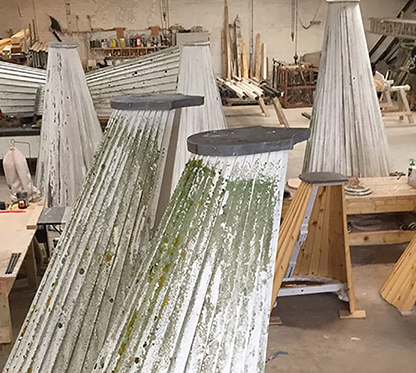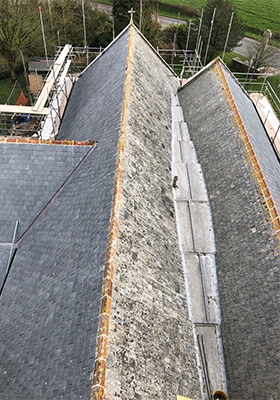 Heritage projects by Marnick Roofing
Cornwall based Marnick Roofing Ltd have recently re-roofed the 18th century Wendron Church in Helston (left) in new Cornish Delabole natural slate, traditionally fixed using copper nails.

Another of the company's heritage projects was at the Grade 2 listed former Coach House building on the Clowance Estate near Truro (right). Here they stripped the existing Delabole natural roof slate, renewed the underlay and battens then refixed all the salvageable slate. They also renewed all the leadwork to the old bell tower adding six brand new Code 5 lead bat slates!
For further details of the services offered visit www.marnickroofing.co.uk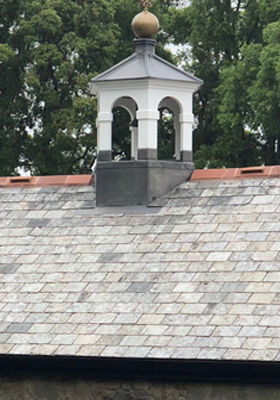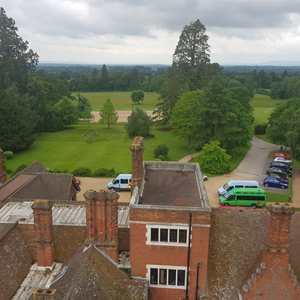 St Josephs School Cranleigh
Two years after Middlesex-based ABC Roofing Ltd completed this project at St Josephs School in Cranleigh these photos were taken from a cherry picker when they were working on leadwork alterations on the clocktower. The company have carried out two other large jobs on this school in the past two years.
For further details of the services offered visit www.abcroofinglimited.co.uk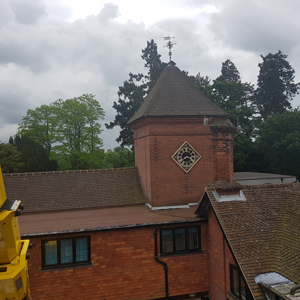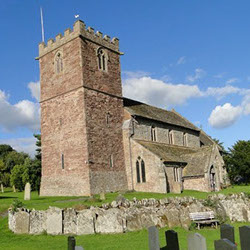 St Mary's Church, Almeley
This historic Grade 1 listed building dates back to the period 1320-1330.
Hereford based Heritage Roofing Contractors Ltd re-roofed the south elevation of the nave with existing and new Hereford Sandstone roof tiles.
For further information on the company and other projects they have completed visit their website at www.roofing-contractor.co.uk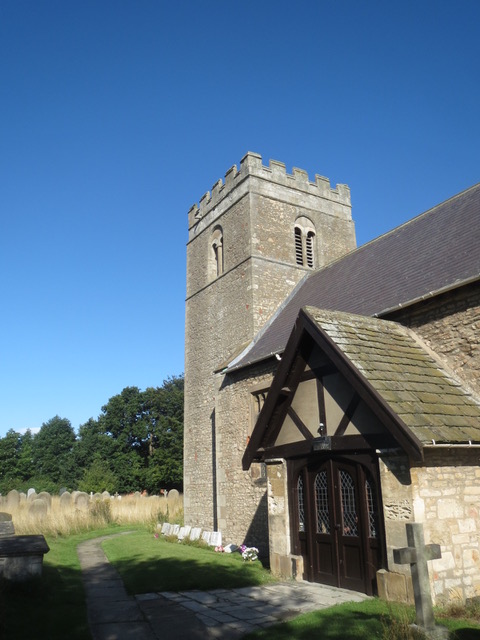 Martin-Brooks restores South Yorkshire Holy Trinity
The heritage roofing specialists at Sheffield-based Martin-Brooks have added sparkle to a trio of the region's ecclesiastical gems.
The firm has completed extensive roof repairs on three churches in Sheffield, Rotherham and Doncaster that benefited from government grants for listed places of worship.
Martin-Brooks was successful in securing contracts by competitive tender to renovate the roofs of St Thomas' in Kimberworth, Rotherham, Holy Trinity and St Oswald's in Finningley, Doncaster and Christ Church in Pitsmoor, Sheffield.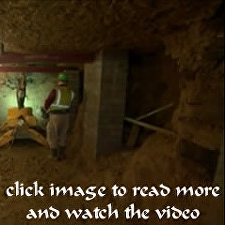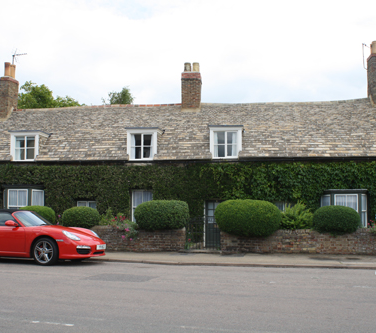 The Laurels - Peterborough
This private dwelling in Stilton, Peterborough won top prize in the Heritage Category in the 2014 Roofing Awards for Lincolnshire based Heritage Roofers Claude N Smith. The company have just re-opened its Collyweston Slate Mine which has harvested new slate for the first time in over 40 years - see video courtesy of the BBC.
Find out more about this company and view further videos at www.claudesmith.co.uk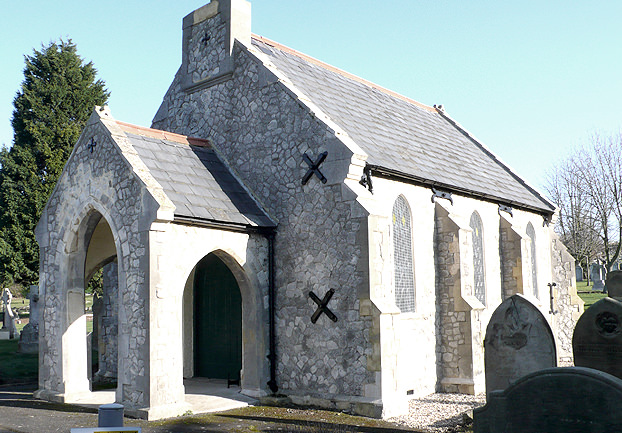 Victorian Chapel of Rest - Canterbury
The roof of the Victorian Chapel of Rest in Canterbury had come to the end of its life, and as there was no underfelt, the rain came in even during services. Canterbury City Council decided it needed to be re-slated with a natural slate, and look as original as possible, and Heritage Craft roofers Broadstairs Roofing were appointed to undertake the work. Secret lead gutters were renewed, also the red clay ridge tiles were reused. Both the company and Canterbury City Council were really pleased with the finished look.
For more information visit www.broadstairsroofing.co.uk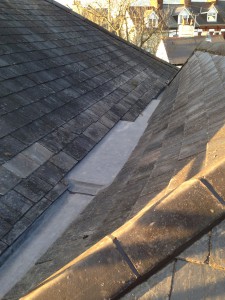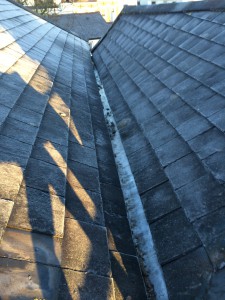 Lead replacement project - Exeter
Exeter Roofing undertook a complete overhaul of this box gutter on a property in Essex - pictured before (left) and after the work was carried out. The project involved removing old lead, creating new boarded steps and replacing with new lead.
The company has 20 years experience providing all types of roofing services in a competent and trustworthy manner and are fully qualified in heritage slating and tiling.
For further information visit www.exeterroofingltd.com