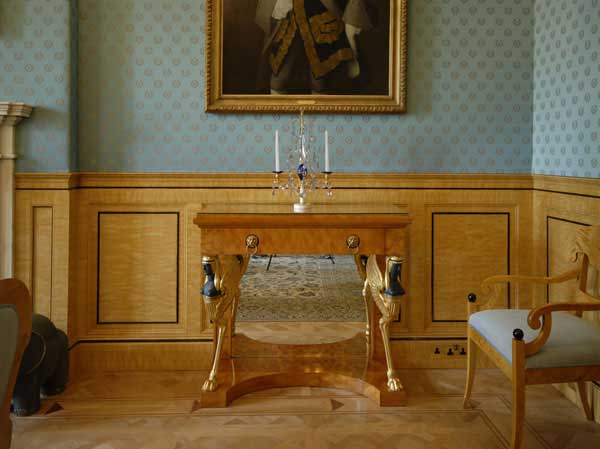 This room was Georgian addition to a much earlier priory, the client had added dado panelling. They had used mdf and tulip wood, both cheap. Sebastian Wakefield was then employed to grain all the woodwork.
The room was furnished with the client's collection of Beidermeier furniture.
Beidermeier furniture is a 19th century style from German, Austrian and Scandinavian parts of Europe. It emanated from the growing middle classes, influenced by English Georgian and French Napoleonic designs, with a tendency towards simpler neoclassical designs. A particular variety of satinwood veneer was used a lot with ebony inlay.
All the woodwork was grained to match the client's collection of Biedermeier furniture.
Sebastian said: "It was an interesting and fulfilling job. I had special brushes made up for the job as the mouldings were too fine for the standard brushes.
"Apart from pleasing the client I have taken pleasure from visits for charity parties where the guests had no idea that they were seeing graining, it makes one feel like a magician.
"The style of satinwood is not the normal English version but a particular veneer not often used in this country and it was the first time I had grained in this style outside of sample boards. I enjoy being asked to extend my range with new woods and marbles."
To find out more about Sebastian and his work visit www.paintersandgilders.com.