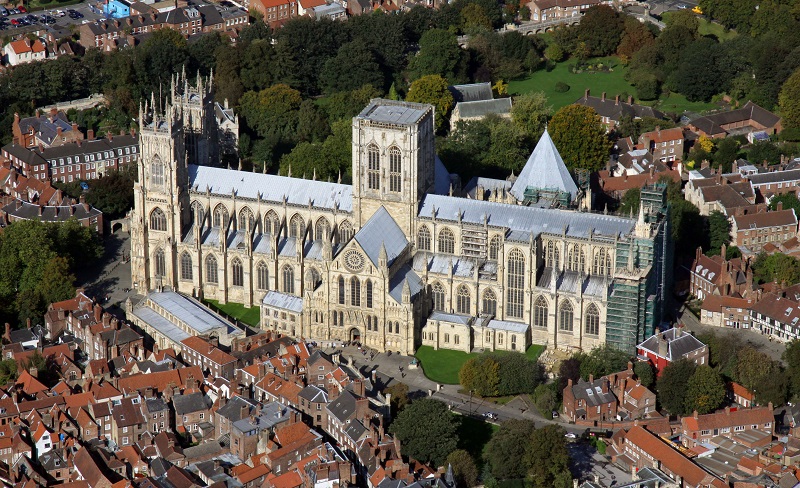 York Minster is Northern Europe's second largest gothic cathedral and has a long and varied history dating back almost 1500 years. Initially built with wood, the church has undergone numerous transformations over the two centuries, including complete refurbishments and organised repairs, and has survived two fires and William the Conqueror's harrying of the North!
Conservation and restoration is an on-going commitment and those in charge are dedicated to keeping the traditional architecture and heritage. As a result, they utilise a combination of cutting-edge science and ancient craftsmanship when undertaking any remedial restorative work.
They recently called on the expertise and specialist knowledge of the professional roofing contractors at Leicester-based JTC Roofing, who were extremely proud to undertake the roofing restoration work.
The project involved replacing the north parapet gutter of the nave roof, using terne coated stainless steel. The old lead was laid in very long lengths which contravenes all of today's codes of practice and so had to be replaced. This is because lead expands slightly over time and, as a result, if laid too largely can creep and crack. Stainless steel, on the other hand, has a much lower thermal expansion rate, making it a much more suitable material.
The work entailed opening up the lead eaves to the roof and inserting the newly formed terne coated stainless steel pans of 0.5mm material thickness. The stainless steel arrived in coil form, requiring careful marking and forming up using dog ears at the step lines. The formed pans may then have the fronts formed and soldered (hot work out of place where possible) so as to form a drop into the sump outlets.
The lead then required careful re-dressing and lead welding wherever it had split. Also, the laps to the main lead roof sheets on the steep pitch were opened and re-nailed using 25mm annular ring shank stainless steel nails. Sand cast lead clipping tags were also lead welded on to the sheet to then restrain the centres of the laps in the sheets.
York Minster, and the adjoining school which JTC Roofing also worked out, is a fantastic example how the company use their specialist historic renovation experience to perform superior standard roofing work, paying attention to the heritage and craftsmanship. The team's huge efforts, top quality workmanship and care to detail ensured the finished roofing restoration was completed to the best possible standard and in line with York Minster's traditional design.
For more information on the services provided at JTC Roofing, including their period and historic roofing renovations, visit www.jtcroofing.co.uk