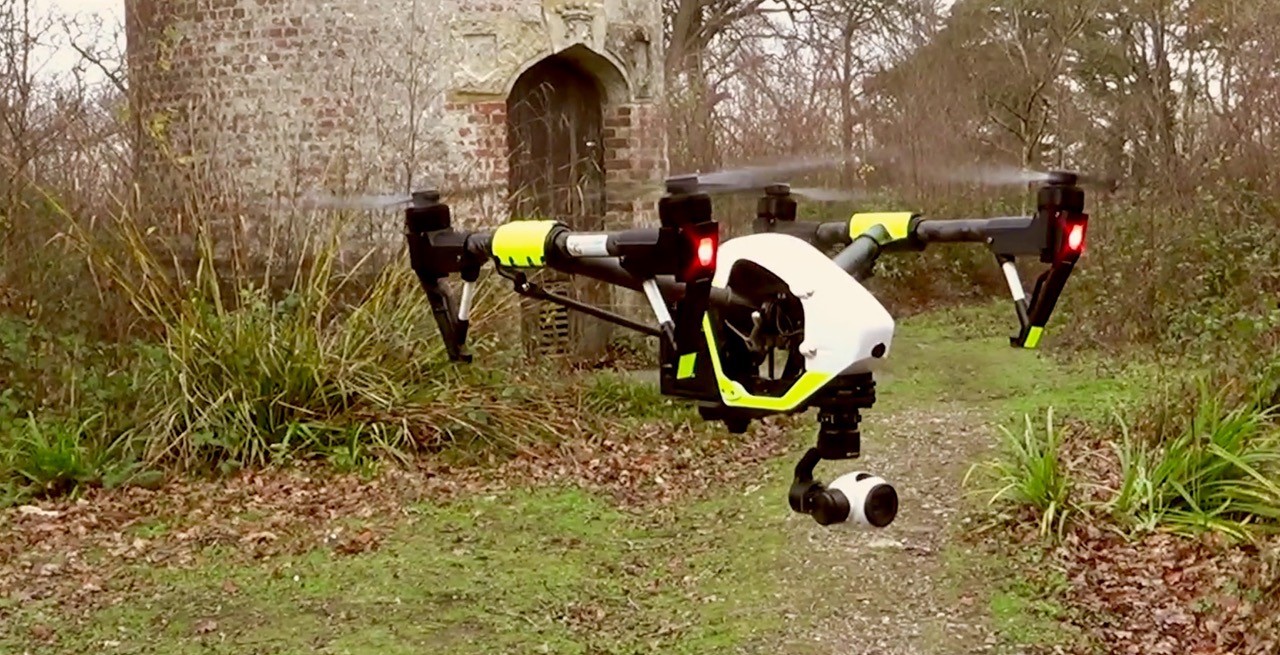 Compared with traditional methods, Chichester-based RTF Imaging can provide faster, safer and more cost effective methods of visual inspection at height, reducing the need to send human operatives into dangerous and inhospitable places.
They serve the domestic, commercial and industrial sectors, specialising in the close inspection of hard to reach places, and are now increasingly being asked to employ their services on ecclesiastical and heritage properties where minimal disruption to the building fabric is of key importance.
The company use the latest sensor technology with up-to-date UAV platforms to deliver top quality data, in the most challenging and varied conditions. Aerial mapping, thermal imaging, 4k recording and impressive zoom capabilities enable them to survey a wide range of assets and equipment with quality outputs and safety at the forefront of every operation.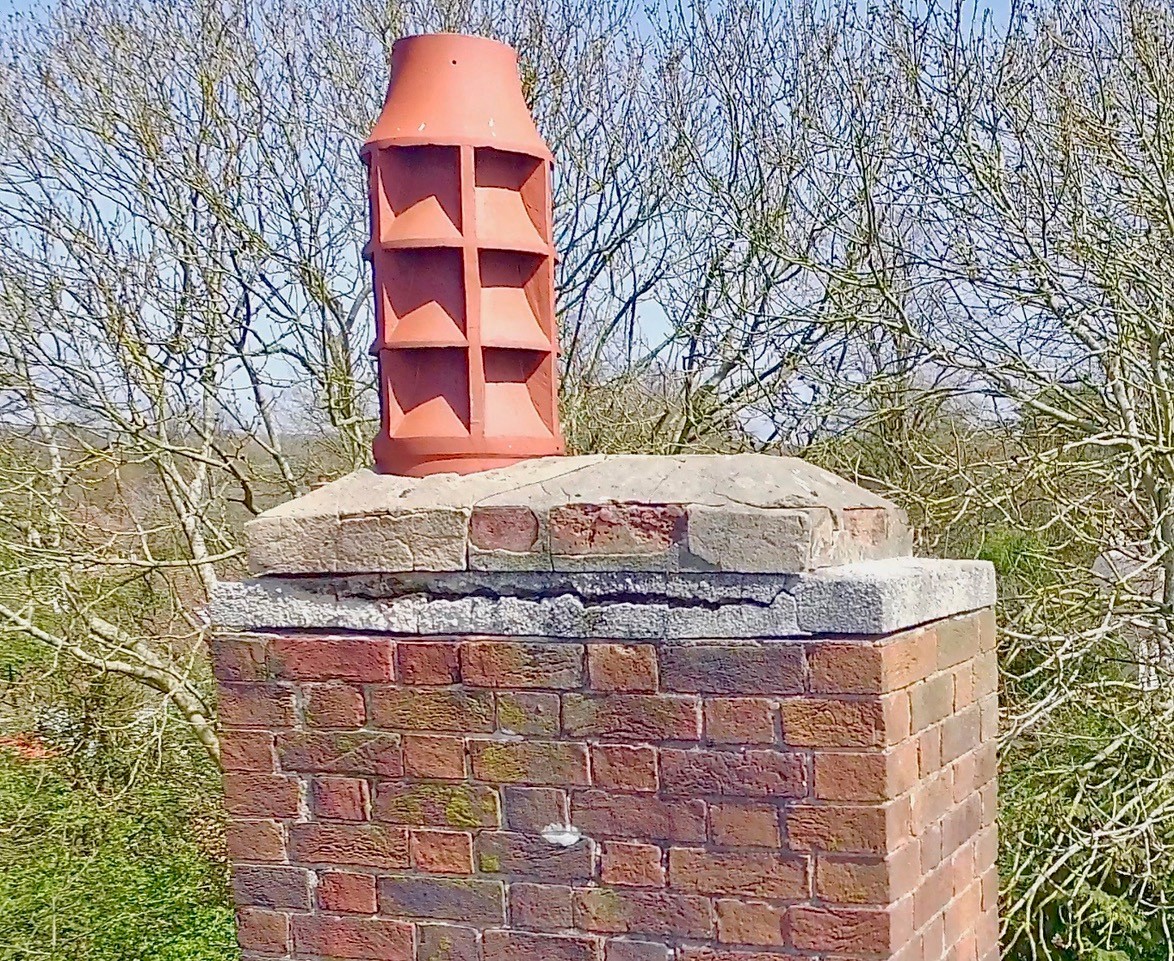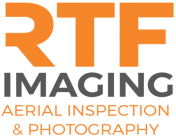 The image on the right was taken from an inspection performed locally at a residential property in Tangmere, where RTF were asked to take a look at the chimney stacks in particular.
Director Russell Trump explained: "We put a strong emphasis on safety and solid flight planning procedures. After the initial assessment of a flight being feasible we can quickly secure relevant permissions, make necessary airspace notifications, communicate with the local authorities and prepare detailed RAMS. In addition to strict flight planning, the use of trained observation crew and many programmable flight parameters mean that a safe operation can, in most cases, be planned and achieved. We are able to operate in a number of complicated environments, above or below ground, indoors or out."
Pictured (top) is the company's DJI Inspire 1 in flight - it is one of their platforms used for both inspection and thermal surveys. The shot was taken whist piloting for another company during a tower inspection, RTF were asked to gather images to help assess the condition of the brickwork and pointing.
Russell has been involved with the industry for three years now, the majority of his experience coming from working closely with other UAV professionals to very high standards in a wide variety of environments. He added: "I have spent (and am still spending) a lot of time and effort, not to mention money, ensuring that we are well prepared, appropriately trained and properly equipped to deliver quality outputs to our clients in an efficient and professional manner. I am pleased to say that we are now in a position to offer a range of visual inspection and mapping services."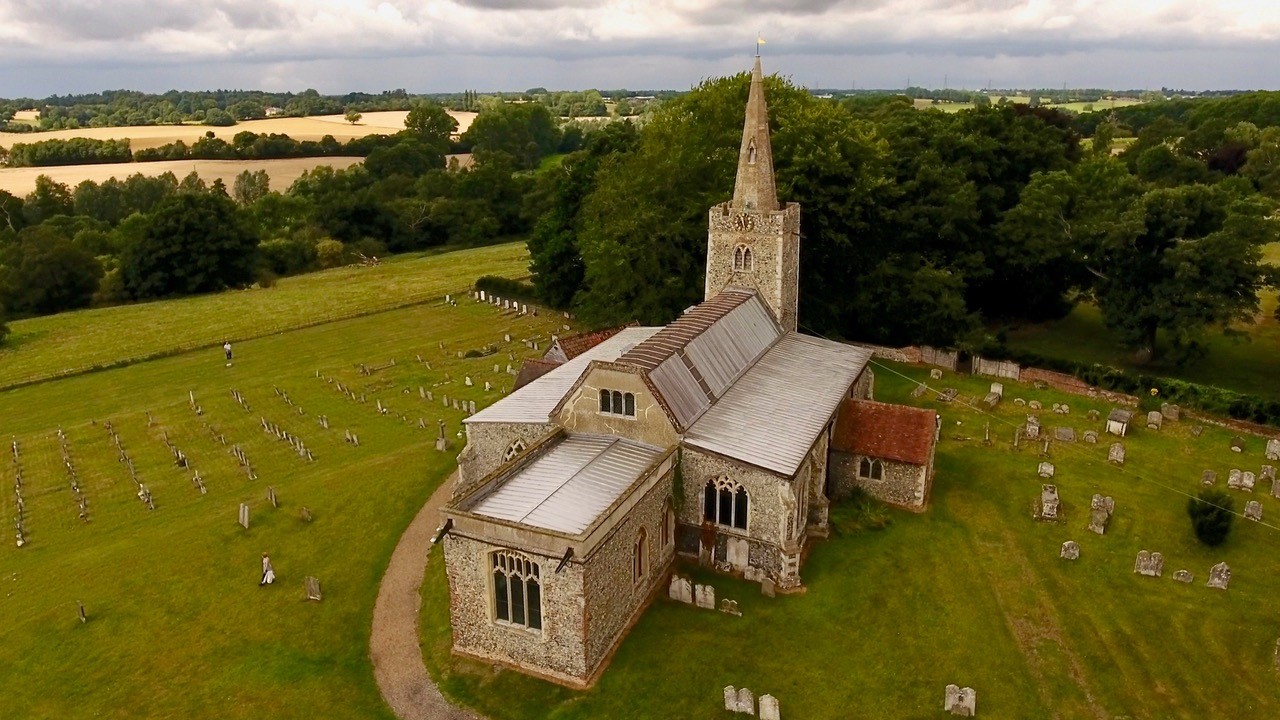 Pictured (left) is a great aerial image of St Marys Church in Polstead, Suffolk. This church is well known as the final resting place of Maria Marten, a lady who was famously murdered locally by her lover in 1827. Russell flew here more for pleasure than business as his friend's wife is actually related to the murdered lady. He said: "My friend is the Director of Adventure Dog Productions, a company that I work closely with and the man who is responsible for getting me involved with UAV's in the first place." All correct permissions were sought and procedures followed during this flight just as any other paid job would be.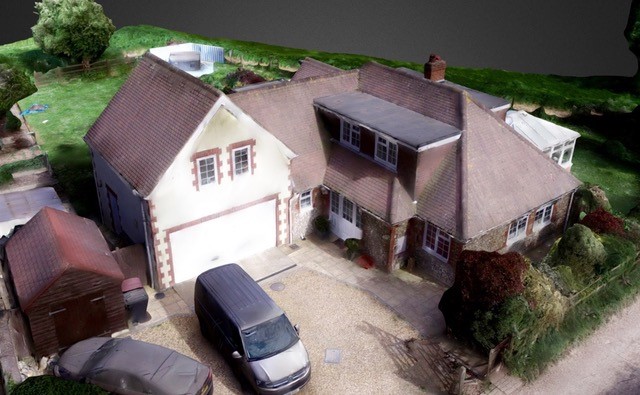 One area of its operations that the company is looking to expand on is that of close inspection and 3D mapping. The screen grab (right) is from a 3D model which Russell produced in trial to illustrate the possibilities to a potential client. Data in the form of photos is systematically collected from the air and stitched together to form a 3D model which can be navigated and viewed with ease on the computer.
Russell explained: "The individual photos can then be examined, annotated and analysed. Due to the high resolution of the cameras used, it is possible to zoom in many times without loosing the picture quality required to view very minor detail. Using this we can provide very detailed inspection of the entire building or structure and the map is part of that process. Varying degrees of accuracy can be achieved within the maps allowing useful tasks such as taking area and volumetric measurements."
For further information visit www.rtfimaging.com