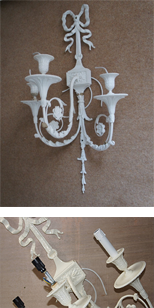 Hatherop Castle, near Cirencester in Gloucestershire, dates from the late-16th or early-17th century. The present building was partially rebuilt by the architect Henry Clutton between 1850-1856 for the Baron de Mauley.
At the end of World War Two it was leased from then-owners the Bazley family by the Owlstone Croft School of Cambridgeshire – becoming the Hatherop Castle School. The buildings were subsequently purchased from the family in 1972. The school remains a private boarding school for 2-13 year olds.
Inside the main school building is the Dr Moorhead Room: a grand space named after a former headmistress. Fitted to the end walls of the room were two pairs of Victorian wall lamps. They had become in need of some conservation treatment, so were removed during a recent programme of renovation work to the room.
The Historic Metalwork Conservation Company was engaged by the school to carry out the conservation work on the wall lights. They were made up of an iron armature, with central wooden boss and curved copper tubes forming the lighting arms. Each was decorated with leaves and flowers made from composition – a traditional mouldable resin made principally from pearl glue, whiting powder, linseed oil and rosin. The lights were then finished with a thick white coating, which may have been whitewash.
Each wall light was carefully removed following disconnection from the electrical supply and transferred to a workshop for treatment. All were in a poor condition, with cracks in the composition and a number of decorative pieces missing. The decorative arms were also bent out of shape.
The fittings were in the form of a candle made from cardboard tubes and many of those were missing. A number of the light fittings were no longer working as the old electrical wiring had failed.

First of all, each light was taken apart to allow the removal of the old wiring. New three-core electrical cables were drawn through the original copper tubes. The wall lights were then carefully re-built and the armatures and lighting tubes straightened.
Areas of missing decoration were replaced by making moulds of surviving decorative elements using a two-part, silicon/rubber-based putty. That could be mixed by hand and carefully pressed onto pieces that needed to be copied.
Once cured, replica decorative pieces were made using a traditional composition material, which is available to buy commercially. The composition was first gently warmed for a few seconds in a microwave oven to soften it and then pressed into the moulds. Once cooled and hardened the replacement pieces were trimmed to shape. The pieces were attached using stainless steel pins and adhesive.
Before re-finishing with an oil-based paint coating, cracks and minor areas of damage were filled using a plaster mixture. New light bulb holders and candle covers were sourced and fitted.
The conserved wall lights were then returned to Hatherop Castle School for re-fitting and connection by a qualified electrician.
For further information visit www.hm-cc.co.uk