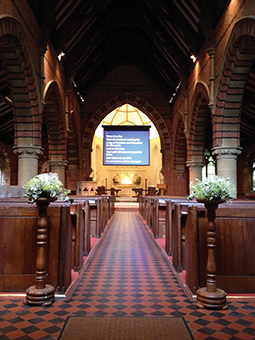 Queen Elizabeth II celebrates her Silver Jubilee, the Ford Fiesta goes on sale in the UK, British Airways inaugurates a regular supersonic Concorde service from London to New York and Cunnings Recording Associates is established in London.
The year is 1977 and proprietor Malcolm Cunnings, who had recently concluded his role as technical consultant to the refurbishment of All Souls Church at Langham Place in London, has a passion to provide churches with great quality audio and visual systems.
40 years on, the list of clients has expanded to include large auditoriums, schools, colleges and teaching hospitals. Cunnings Recording Associates has become well respected in the industry and Malcolm's belief that churches should have the best possible audio and visual systems still remains.
Cunnings is a family run business and this can be seen in all they do. The personal touch is appreciated by clients both large and small. "Clients trust our expertise and benefit from our involvement," said Malcolm. "Each project we work on is unique in some way and we take the time to work with clients to find the right solution, not just the easy solution. This includes liaising closely with architects, project managers and DACs to make sure that the audio and visual system will complement the building and fit the needs of the client."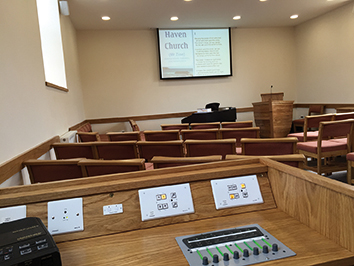 Examples include the use of specialist mounting hardware and a retractable screen to enable a visual system to be installed in a Grade I listed building and the use of bespoke LCD glass projection screens to allow a system to be installed into a Grade II listed building without blocking important sight lines.
Modern technology also plays a part in the final solution with automatic microphone mixers taking the place of the traditional analogue mixer controlled by an operator and digital systems providing recall of presets and settings for different services and congregations in multi-use venues. More recently, services can now be streamed live to members of the congregation at home or in care homes.
One key part of the design of an audio and visual system is not only understanding what it needs to achieve but, crucially, how it will be controlled and operated. Over the years systems have increased in complexity but the availability of regular operators has declined. This can be overcome through the right use of technology to provide simple and intuitive control for users, taking the guesswork out of the knobs but still allowing these to be used if required. Over the years many clients have commented how their new audio and visual system is easier to operate than the system it replaced.
In an ever changing world it is good to know that with their competence Cunnings brings stability and experience to the industry.
Cunnings Recording Associates provides design and installation of quality audio, visual and induction loop systems for churches and prestigious buildings. Call 020 8767 3533 or email info@cunnings.co.uk to arrange a consultation.
To find out more about audio visual expertise visit www.cunnings.co.uk