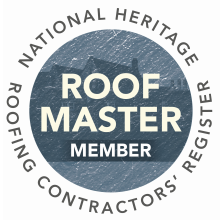 Mr Dan O'Sullivan, NFRC Heritage Roof Master explains:
Roofing is a specialist industry, though unfortunately its all too common among non-professionals and some roofing contractors that mistakes are made and this can lead to costly problems. With over 19 years of experience we know that small errors can cause leaks, structural damage, and serious repairs and therefore particularly with conservation and heritage projects, you just can't afford for such mistakes to be made.
Incorrect Starter Shingles – It's so important that starter sections of shingles are placed down around the eaves. If they are not installed, water can get into the sheathing under the bottom of the shingles and leaks can occur.
Nails – Particularly on a steep pitch or even on any roof, at least four nails should be used per shingle in order to prevent any sliding from happening.
Contractors Walking on the Roof or Slates – The slate roof must be properly staged so the roofers are working off roof ladders and roof scaffolds.
Moisture Protection – Shingles aren't the only part protecting a roof from the elements. In fact, what's installed underneath the shingles is more important and using a high-quality moisture barrier is vital.
Flashing Installed Poorly – Valleys are most prone to leaks and flashing is installed in layers underneath the shingles. The direction flashing is laid down is important, and the U-shape edges should face inward towards the valley.
Drip Edge Missing – The entire perimeter of the roof should have a metal drip edge to avoid damage or openings.
Improper Slope – It's vital that the materials chosen match the slope of the roof otherwise, your roof will be susceptible to water penetration
Ceiling and Attic Ventilation – So many people tend to not allow attics to vent, when laying down shingles for a roof. It's key to make sure that air can escape from attics and ceilings, as otherwise, moisture can build up over time and weaken the shingle material early.
All Slate Is Not the Same – A slate roof is an investment into the future of your building so don't use different types of slate from different places; otherwise there will be differing characteristics and longevities.
Lack of Information or Professionalism – If the builder has not done any research at all and just blindly rushes on with the job there are bound to be a multitude of issues. Slating a roof is not particularly complicated but must be done with care and knowledge.

Photos courtesy of Exeter Roofing
To get a quote or for further information view Exeter Roofing Ltd's website with Dan's contact details at www.exeterroofingltd.com