This guidance is issued by the Church Buildings Council under section 55(1)(d) of the Dioceses, Mission and Pastoral Measure 2007. As it is statutory guidance, it must be considered with great care. The standards of good practice set out in the guidance should not be departed from unless the departure is justified by reasons that are spelled out clearly, logically and convincingly.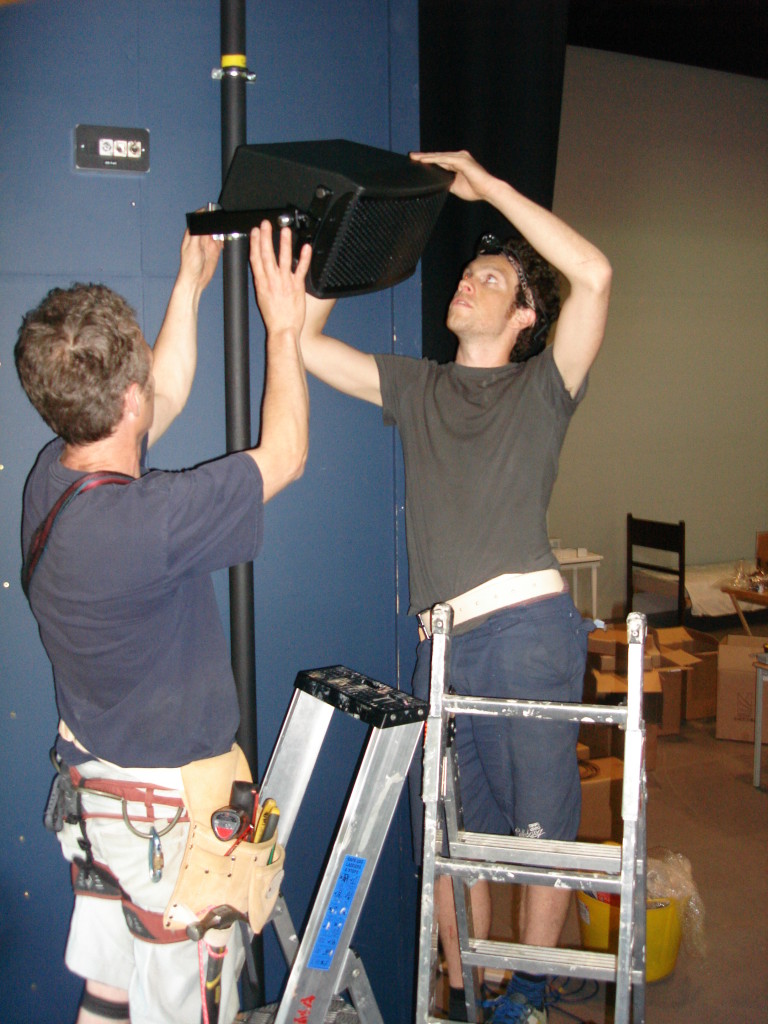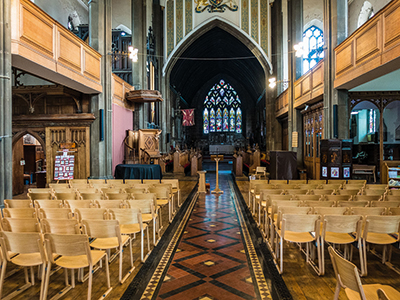 Now the message sounds out clear in the busy marketplace
St Mary's in the Marketplace, the Parish Church of Stockport, has a history running back to the 12th century and still includes some parts of the original church, although most of the Grade One-listed building was erected in the early 19th century. The church occupies pride of place overlooking the historic market area of Stockport and has been at the centre of the local community in the town for hundreds of years.

Click here to read the full story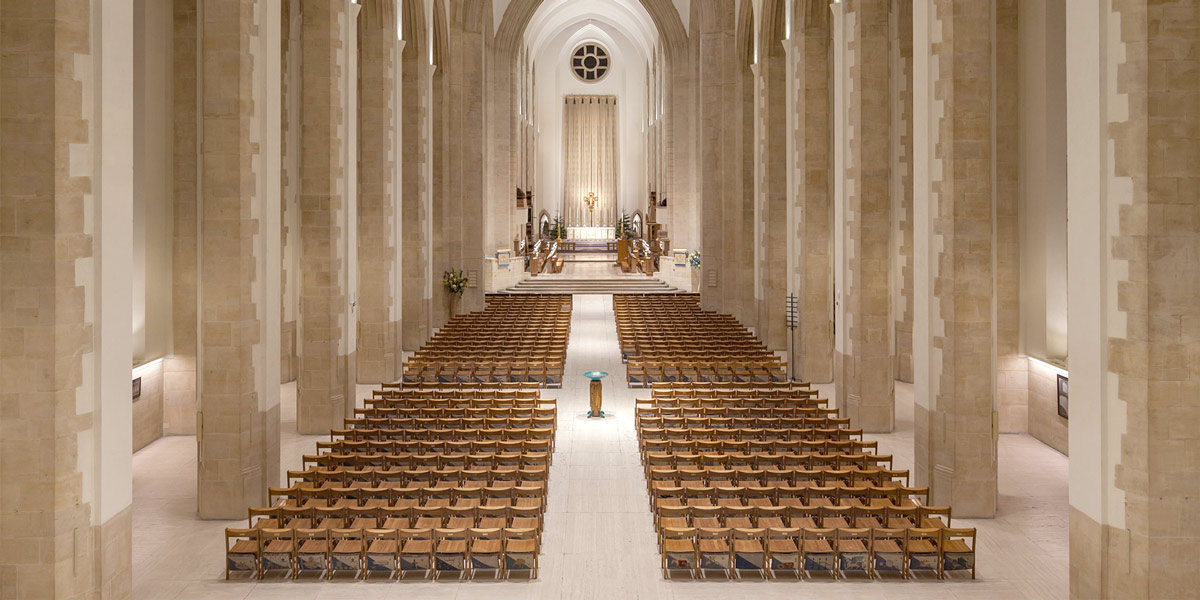 Guildford Cathedral gets complete audio overhaul
One recent challenge for DM Music Ltd was undertaking a complete overhaul of the audio system at Guildford Cathedral. This has been part of the Cathedral's repair work with significant proportion of funding from the Heritage Lottery Fund.

Click here to read the full story
The majority of Anglican churches now use audio visual equipment as part of regular services. The technical specification for any fixed installation is crucial and will depend on your building and usage.
Seek professional advice from an independent adviser, and make early contact with your DAC Secretary to discuss any new scheme. The technical details will be unique to each church, but there are some general principles to consider when looking at new installations which impact on the fabric and appearance of the church.
Speakers
With any sound system the question of what the speakers will look like and where to position them is key.
As always, engage with the DAC at an early stage to seek advice and opinion on what you have in mind.
Position speakers within the roof wherever possible but avoid fixings into historic timbers.
Avoid bulky domestic looking speakers.
Take advantage of slim line products if available and suitable.
Look carefully at positioning. Common solutions are in the roof, on piers or columns, within window reveals and above capitals.
Aim for invisibility, use matching colours to the background the speaker will be on.

Live Mass - at home!
Belltron are pleased to introduce the new Belltron BST-3000, a useful tool for listening to live Mass at home.
The company has developed its own ISAC (Internet Speech Audio Codec) system offering parishioners who are unable to attend the celebrations the opportunity to listen to all liturgies live or deferred. The device is a useful tool for continuing to feel part of one's own community and is particularly simple to manage for the parish priest.

Click here for further information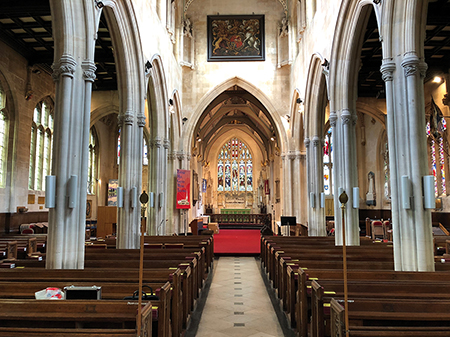 The complete discreet AV solution
Creative Audio-Visual Solutions (CAVS) are a dedicated church audio and visual supplier working throughout the UK.

CAVS were recently commissioned to install a new audio and visual system into the Parish Church of St James in Trowbridge.

Click here to read the full story
Sound desks
These are often the only fixed piece of 'furniture' in a church after a major reordering and can become more dominant than is desirable or necessary.
Where is the right location? Will the chosen location hinder flexibility for other activities such as exhibitions, Alpha suppers or community events? Is there a gallery or tower room which could be considered?
How large does the console desk actually need to be? Bigger should not equate to better. Opt for a minimalist approach to design: the technological impetus is towards miniaturisation.
The same principles apply to sound desks as to kitchens in churches – they shouldn't look out of place when not in use and should not be obtrusive when they are. A well designed lid or cover can greatly reduce the impact.
Although clear sight lines are needed, think about whether there are ways of achieving these without raising up the entire console to undue prominence.
Is historic fabric affected or compromised? Churches often end up utilising existing bits of furniture such as pews, box pews or other woodwork.
Think carefully about whether what you're using to store / house equipment has any significance and whether it is compromised by the new use.
For example, it would be inappropriate to fill the remaining box pew in the church with electrical equipment.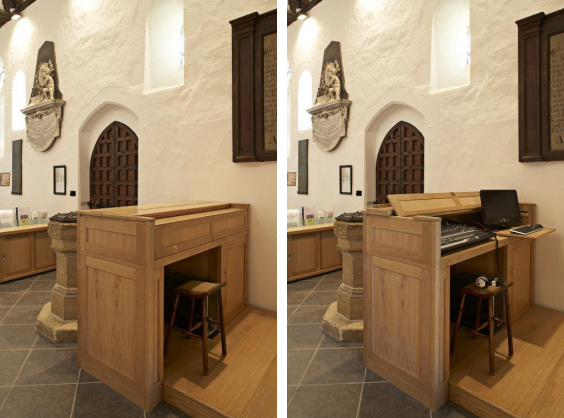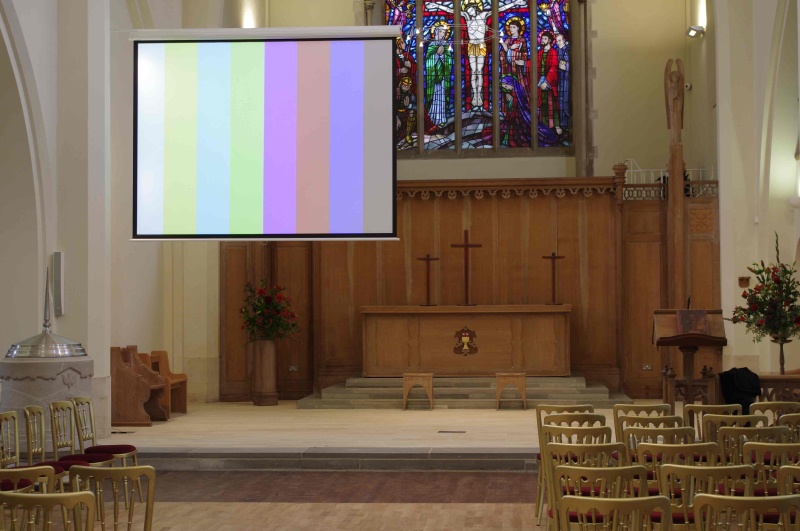 Moveable projection screens for churches
This projection screen at was installed at St Mark's Church in Surbiton by Paul Furness of The Audio Visual Co Ltd. When not in use it rolls up and swings out of the way. Paul has many years experience in this field and serves on the Southwark DAC as a specialist adviser on audio visual and acoustic matters.

For further information visit www.theaudiovisual.co.uk
Projectors and screens and monitors
Screen projection of liturgical texts, words of hymns and songs, material related to the sermon and still images or videos for reflection is now common, supplementing or supplanting printed material, and in line with contemporary culture.
Consider the impact of this on worshippers' visual and mental focal points. The layout of most historic churches doesn't work well with large screens and there are inevitable problems with sightlines and positioning. Ingenious solutions are often needed to get a professional looking arrangement.
Do experiment first if you can (providing you don't need to make any fixings into fabric). Find out where a screen works best and make sure it works equally well when the sun is low / high in the sky.
Don't allow temporary arrangements to become permanent. Speak to the DAC about your faculty application at an early stage.
Screens should be able to be retracted and moved out of sight when not in use.
A simple solution that works well in some situations is a screen on a bracket hinged from the chancel wall.
A more complex option is to position a screen behind the chancel arch and lower and raise it electrically. However, consider how you will access the screen for maintenance; speak with your Inspecting Architect and DAC for advice about weight and fixing; and also how it will appear when looking from east to west.
If you have a sufficient area of blank wall (usually on either side of the chancel arch), consider projecting directly onto the wall - a very low impact solution.
Sometimes additional screens are necessary to enable everyone to see a screen. Think about whether you need these all the time, or just for extraordinary services such as large funerals and special services. If it's the latter then more temporary arrangements could be the best answer.
Look at both rear and front projection systems to see which is most appropriate for your circumstances and where the best place to position the projector is.
Monitors or plasma screens need not be fixed to the fabric. Sturdy freestanding moveable stands can be used, providing sightlines are conducive and wiring is not overly restrictive.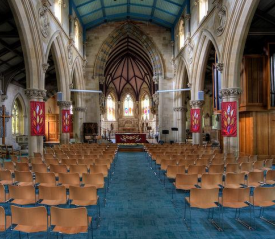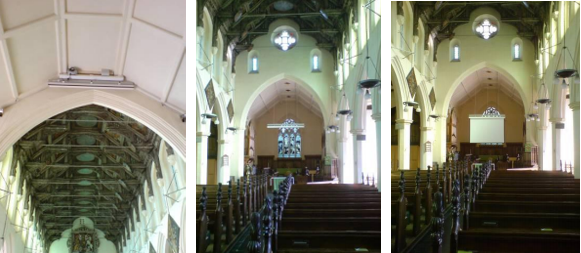 Guidance reproduced courtesy of Church of England www.churchcare.co.uk
You can find a selection of Sound & AV Systems experts in suitable categories in our directory including Loop Systems, Fire Safety, Electrical, Security and Acoustics by searching in your area for the type of company you need.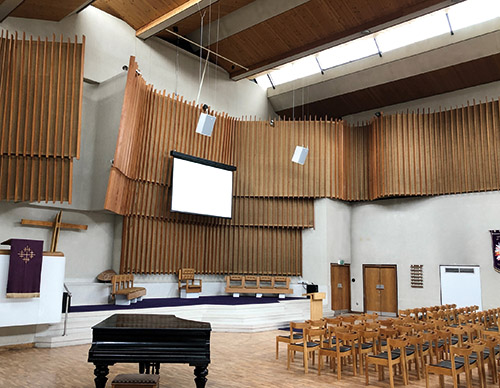 You don't have to be tech savvy to use the latest in AV
Broadmead Baptist Church in Bristol is built on the foundations of one of the country's earliest Baptist churches. Now, the completion of a dynamic audio-visual installation by Creative Audio-Visual Solutions has led to the church being fully equipped for all the requirements and challenges of worship in the 21st century.
Click here to read the full story.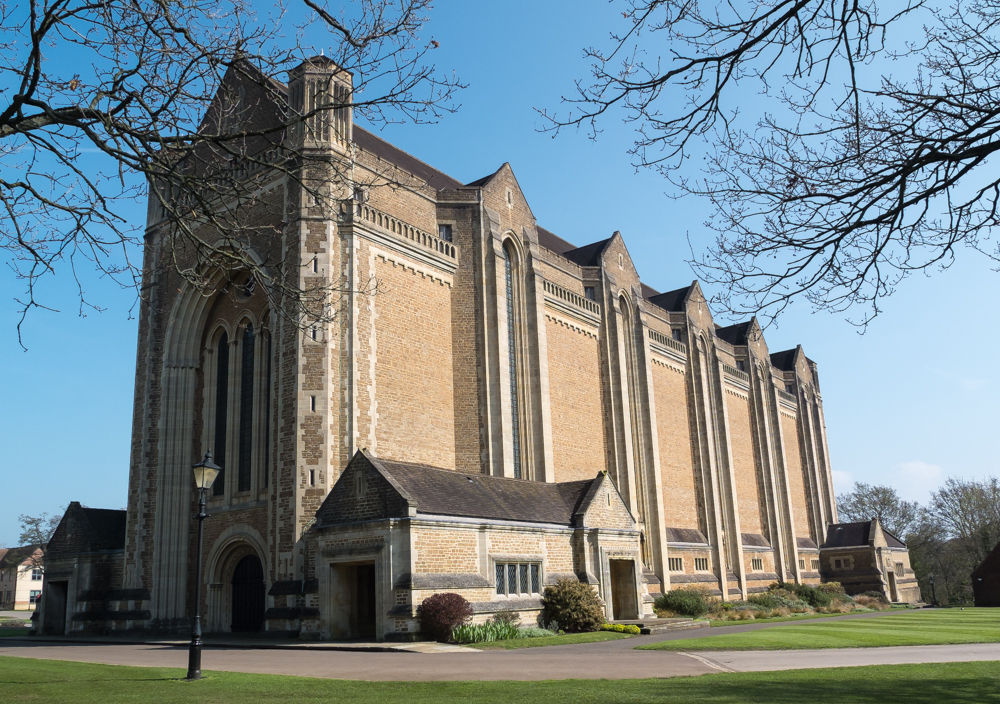 Charterhouse Memorial Chapel gets major upgrade to sound system
Scanaudio have carried out a major upgrade to the sound reinforcement and induction systems in the Memorial Chapel at Charterhouse during the Easter Holiday. The chapel was designed by Sir Giles Gilbert Scott and consecrated in June 1927. It is the largest war memorial in England and dedicated to the Carthusians who gave their lives in the First and Second World Wars.
Click here to read the full story.
Do you really need a new sound system?
Our first contact from the team at Blyth Central Methodist Church was a phone call that we've had many times before explained Paul Dougherty of Blaydon Communications Ltd 'Our sound system isn't working, it's all crackly and we just need a new one'.
Click here to read the full story.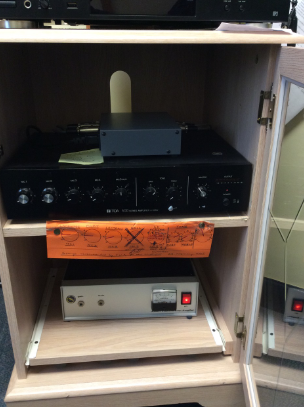 Churches embracing new technology
The needs of a church sound system are quite simple in so much as they want intelligible audio to reach all the congregation including those with hearing impairments. Although this requirement has probably been the same for many years there is now a plethora equipment that can be used and this is when the world of sound can become a mine field.
Click here to read the full story.
St Bart's goes digital
The parish church of St Bartholomew in Horley, a parish covering Horley town and Gatwick Airport, is a Grade One-listed building, mainly of 14th century origin, although a church has been on the site since the middle of the 12th century.
Click here to read the full story.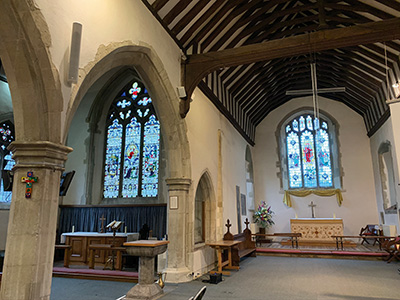 Scanaudio provide induction loop at Temple Farm
Temple Farm is a new 84-acre UK headquarters for the International Bible Students Association (IBSA) located near Chelmsford, Essex. The site has up to 1,000 volunteer workers per day alongside a small number of outside sub-contractors and is professionally managed and run by the organisation.
Click here to read the full story.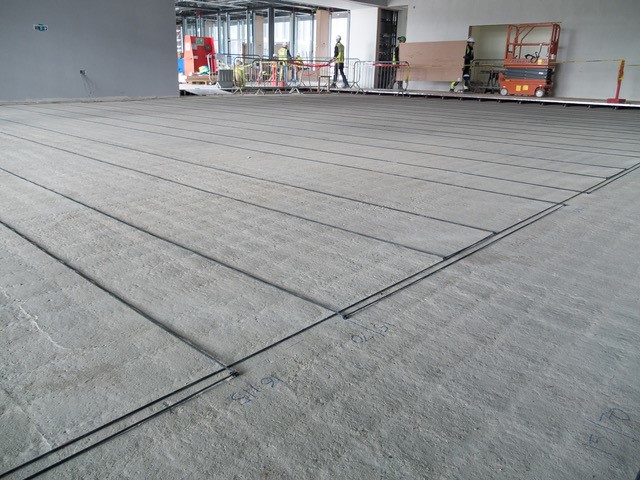 Ealing Green Church gets new AV system as part of refurbishment programme
Newtech Southern was awarded the contract to design and install a new audio visual system for Ealing Green Church, West London. The church was to undergo a complete refurbishment and as part of these works a new high quality sound and video system was required.
Click here to read the full story.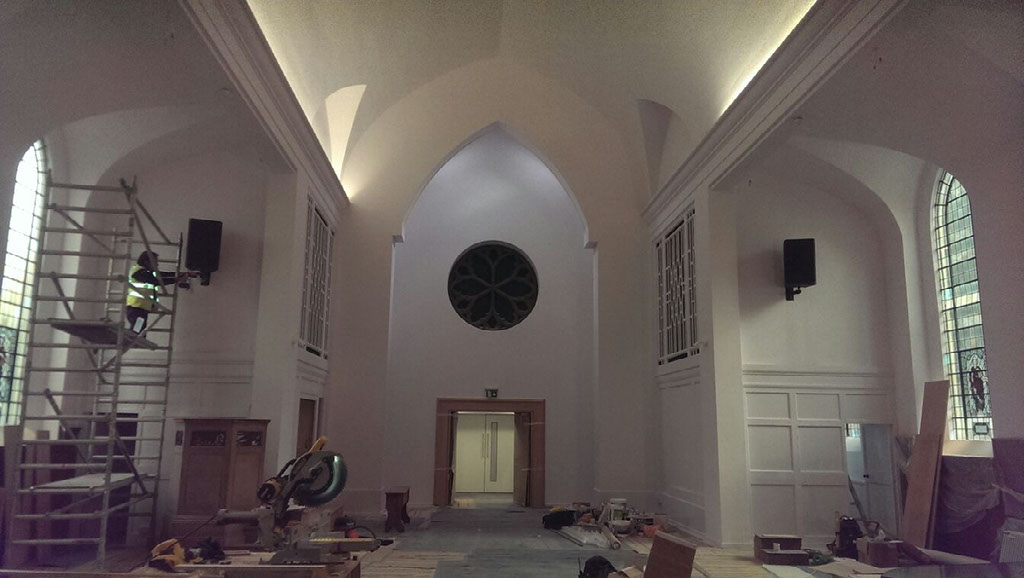 Only the best will do for Roedean School theatre sound upgrade
The world-renowned independent Roedean School in Sussex provides the best facilities for it's pupils, so it's no surprise then that when upgrading their theatre sound system they chose the best. Traction Sound loud speakers were used throughout the auditorium mixed from Allen & Heath digital desk. Brighton Sound System carried out the theatre sound installation working in partnership with AC-ET who supplied the equipment.
Click here to read the full story.
A guide to church av systems by MPB Sound and Light
The purpose of this article is to help churches through the process of exploring the options for church av systems, and drawing up a specification to send out for quotations.

We have a dedicated article about choosing the right wireless microphones for you and we also have two free online courses for anyone new to sound systems written with churches in mind
Click here to read the full story. Visit the MPB website here.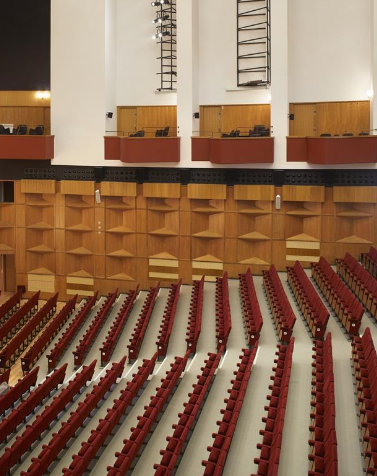 SSV helps revitalise a South London gem
Sound Space Vision is delighted that its latest project, Fairfield Halls, opened in mid-September after a three-year restoration and renovation led by MICA Architects.

After completing a feasibility study for the council-owned building in 2011, Sound Space Vision was appointed in 2016 and charged with completely replacing the performance lighting, sound, and communications infrastructure for all of the Halls' performance spaces – the Phoenix Concert Hall, the Ashcroft Playhouse, the Arnhem Foyer, and The Rec and Talawa studios.
Click here to read the full story.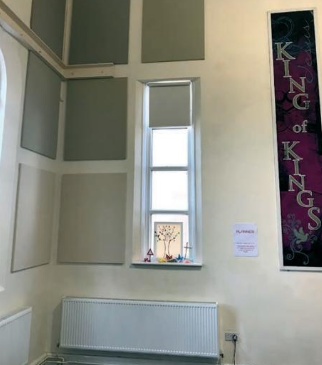 Sound know-how helps clarify the message
Wootton New Life Church is a growing and lively Methodist church at the heart of the village of Wootton in Bedfordshire.
For many years the traditional rectangular church building had a suspended ceiling, which had begun to look tired; so the church decided to open up the whole space and redecorate.
Specialist sound and acoustics company APi Communications were contacted to help resolve the problem.
Click here to read the full story.