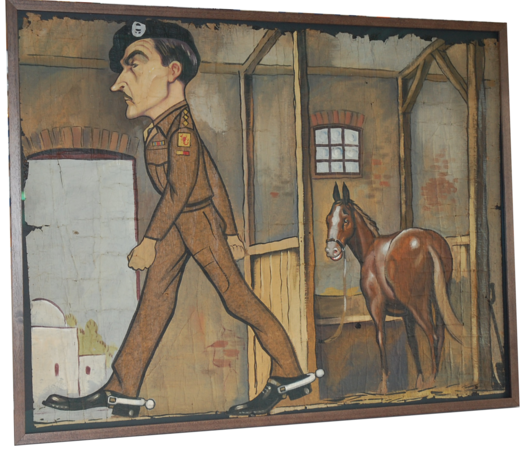 Nicole Wall, of Southampton based picture framers We Frame It, was recently approached to undertake an unusual project to frame a rare painting created during the second world war. Nicole takes up the story:
"I do have some challenging items brought in by customers from time to time and none more so then this large piece of War Art dating from 1938. It was a cartoon of my customer's father leaving his horse regiment in Palestine to join the newly formed tank regiment in Europe.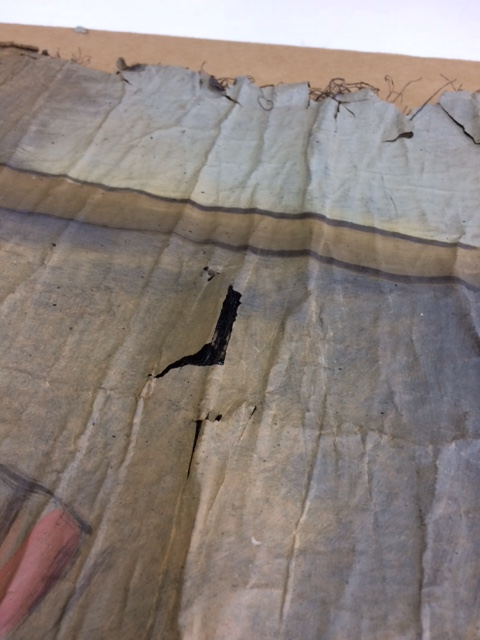 "The picture was unusual as it had been painted on paper used to line ammunition boxes and as such had a central core of tar impregnated coconut fibres. It was extremely brittle and had been stored rolled up in various attics over the years. Still, the artwork remained very clear and the customer now wanted it framed and displayed on the wall.
"Due to its delicate nature I decided to seek some advice from a couple of experts - one in paper conservation the other in painting restoration. Both agreed it was a lovely piece of artwork and offered me some advice and materials to consolidate the worst bits of the paper surface. This completed, I set about framing it with a complimentary deep rebate frame in a subtle colour very similar to the serge army uniform. It was backed by black mountboard cut just large enough to feature the ragged fibre edges.
"The museum quality Tru Vue acrylic, which I had to order cut to size due to it requiring specialist cutting equipment, was amazing. It was crystal clear non reflective, anti-static and abrasion resistant and most important of all gave 99% UV protection."
For further information on Nicole's bespoke, made-to-measure picture framing service visit www.weframeit.biz