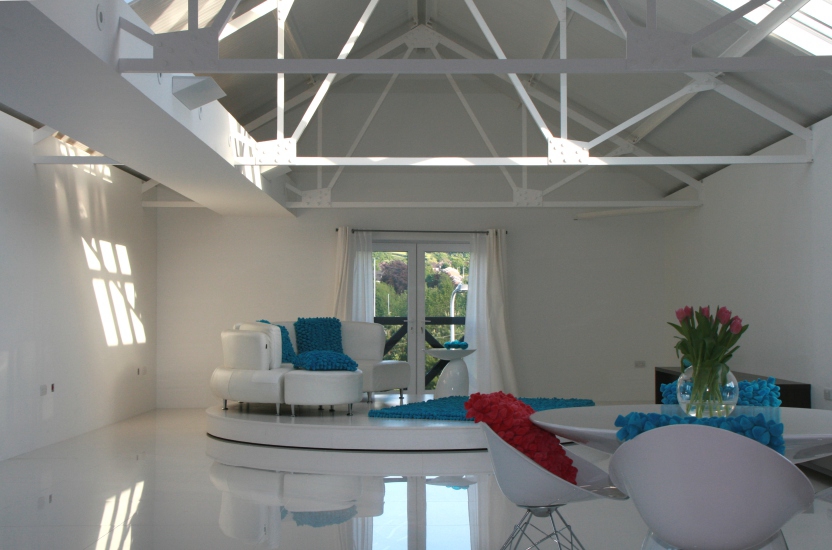 When a 19th Century wharfside store in Carmarthen was transformed into a luxurious family home, choosing a heating system that would complement the interior aesthetics while maintaining energy-efficient comfort was essential. The answer proved to be a Unico small duct warm air heating system, where the only visible signs of the system are discreet outlets in each space.
The Warehouse is a landmark building in Carmarthen. During its renovation by owner Jonathan Firth, the fabric of the building has been protected and enhanced, while the interior now boasts open plan living accommodation across three floors.
The project is characterised by considerable attention to detail, which includes the energy performance of the building. One potential issue was the possibility of cold spots in such a high building but this has been addressed by the Unico System's delivery of high velocity heated air through small outlets.
As the heated air enters each room through the small outlets, it quickly mixes with the surrounding air to provide even, draught-free heat distribution across the space. In fact, it maintains a temperature difference between floor and ceiling of no more than 2°C. High levels of acoustic insulation in the ductwork ensure that noise levels are no higher than the British Standard (BS 8233:2014) night-time target for bedrooms.
For optimum energy efficiency, heat is provided by a condensing gas boiler that serves the Unico air handling unit in the roof space. Warmed air is then distributed via small ducts to 50mm diameter circular outlets distributed throughout the building and finished to match the décor. The narrow diameter of the ducts means they can easily be installed in ceiling cavities or walls.
The use of this energy-efficient heating system complements the other energy-saving features of the building's design, which include extensive use of natural daylight, efficient light sources and high standards of thermal insulation.
In selecting the Unico System as an alternative to unsightly radiators or other heat sources in the rooms, Jonathan Firth was able to avoid the aesthetic compromises these would impose whilst ensuring that comfort levels are maintained.

Further information visit www.unicosystem.co.uk