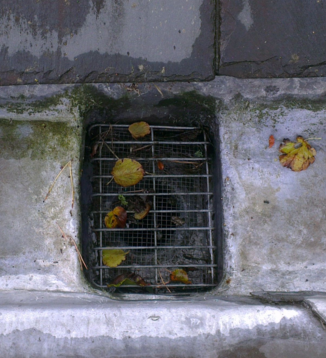 The problem with most church gutters is that they are hard to get to, they were often under-designed in the first place, and there isn't the money or able bodied volunteers around to clear them out.
Dr Malcolm Wearing BEng PhD CEng MICE MCIWEM, a consultant at CRM Rainwater Drainage Consultancy Ltd, is particularly aware of these challenges, as aside from his professional life, he is involved in the leadership of a team of churches with two listed buildings and another two Victorian buildings with significant challenges.
Much of what he outlines below applies equally to other heritage buildings, but with churches, the lack of resources can make the challenges greater. Therfe are however details on all gutters systems which can make maintenance more critical, and can lead to premature failure of systems.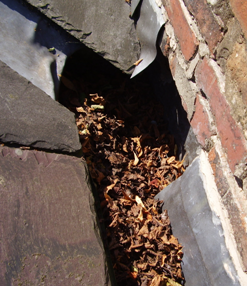 Leafguards or no leafguards?
The main question as to whether to fit leafguards is "will what is below block in such a way as to be difficult to unblock?" If the answer is no, or if any pipe blockages can be fairly easily unblocked, then I would recommend that leafguards are not fitted, as they will just block up with leaves. Unless very regular maintenance is to take place (perhaps weekly in areas with high numbers of deciduous trees) leafguards will be a source of capacity reduction, and in some cases this could be the main cause of gutters overflowing into the building.
In some cases leafguards are needed, so in that case, what is the best design? Well the bigger the better, both in the overall perimeter area of the leafguards and in the size of the mesh. What is the best mesh size will depend on the pipe size below. The mesh should be chosen to keep everything out that could block the pipe, but let everything else through. This would suggest that for a 75 pipe, a 40mm sq or even 50mm square mesh would be ok, but too often very small meshes are selected, which just leads to premature blockage and thus overflow
There is also a choice between flat in the base of the gutter, and standing up from the gutter sole. In almost all cases the latter is a better choice, as flat leafguards are much easier to block with big flat leaves, carrier bags etc. At least with an upstand leafguard, the water can rise up above the debris, provided the gutter is deep enough. Therefore any leafguard should aim to have a vertical height approximately 50mm below the lowest overflow level of the gutter.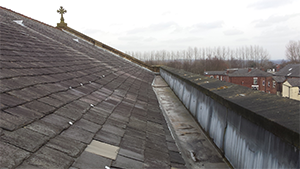 Stepped or flat?
Historically many buildings were fitted with stepped sloping lead gutters, each step being formed from a discrete section of lead, with an upstand/downturn detail at each joint to waterproof it. With the technology available at the time, this was a very good solution, and if correctly designed and maintained, can still offer a very robust method of draining a roof. However, unless the falls are very steep, what you have is a series of very shallow gutters, each discharging into the next, which work fine in normal flow. However, in the event of blockage, overflow will occur much more quickly than with a deeper, continuous, flat soled gutter which may be effectively two to three times deeper, and which contains significant storage volume.
Whenever stepped gutters are refurbished, consideration should be given to whether a flat or shallow slope continuous gutter could be used instead. Welded stainless gutters, lead gutters with proprietary expansion systems, or membrane lined steel gutters, all offer durable options which provide greater overflow protection and ease of maintenance. On some grades of listed building this would obviously not be an option, but it is worth considering when major renovations are planned for buildings with less strict oversight criteria.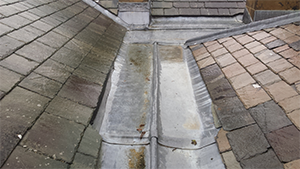 Overflows and tell-tales
In an ideal world, large chute outlets discharging into external hoppers are the best solution for church gutters, the chutes are less likely to block, and if there is a pipe blockage water will overflow the hoppers and the building will remain unaffected. But if that is not what you have, is there anything you can do to reduce risk in the event of blockage?
Overflow weirs can be formed in two ways, a simple chute heading through the parapet, or a periscope overflow, which is a raised tube projecting though the gutter sole and discharging via a pipe either at high or low level.
If architecturally neither of these can be accomplished, the simplest form of warning of blockage is a tell-tale overflow, a small diameter tube running horizontally though the parapet, which just shows that there is excessive water depth in the gutter. It won't take the storm rainfall away, but will tell you when the day to day light rain isn't being drained, which should raise alarm bells. If even that isn't possible, electronic high water level alarms are available, which could be wired up in such a way to give an audible warning, or even send a text message when levels become excessive.
The absolute key is keeping on top of maintenance, which means learning the patterns of your building. Many buildings will need only occasional maintenance, others very frequent attention, much depends on the presence of trees etc. in the area. Beware though, a new fast food outlet in the area and a flock of seagulls can soon turn low maintenance into high maintenance, so always be on the lookout for changes.
For more information about the services offered by CRM visit www.crmrainwater.co.uk