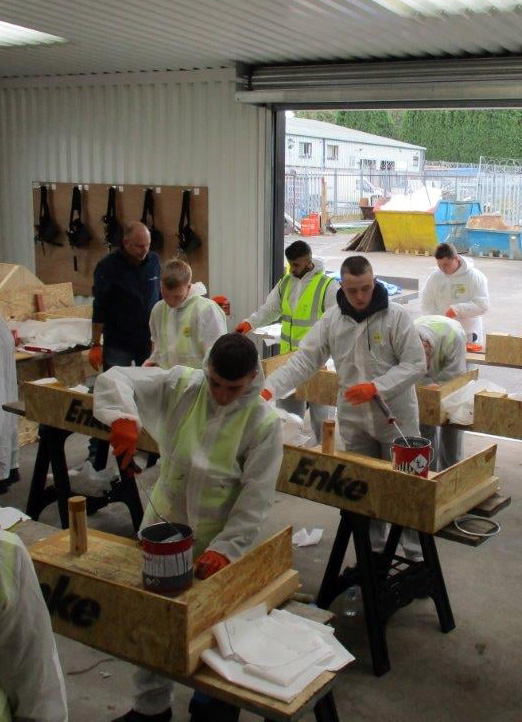 As roofing contractors, SPV are well aware of the current skills shortage in the difficulties in attracting new entrants to our industry. SPV have recently created a new Training Hub to look to assist with this and encourage more young people to consider a career in construction
Everyone in the industry knows that roofing offers a fantastic long-term career. It's well paid, it offers excellent career progression opportunities for those who are keen and competent, allows for the ability to move between other trades, it offers an opportunity to travel the country as well as many other perks.
The CIOB has quoted that the construction Industry needs 157,000 new recruits by 2021 to keep up with demand but currently the rate of recruitment into the sector is far lower than the retirement rate within the sector. With the industry now experiencing rates of growth, particularly in house-building, this is putting further strain on an industry which has already been facing skills shortages.
Attracting and developing young blood is key to the long term success of roofing companies. Apprentices bring enthusiasm, energy and fresh ideas to a business to help contribute to its development and success.
However, both recruiting and developing apprentices is not an easy process. Poor perception of the industry, outdated stereotypes and a lack of awareness of the opportunities within the sector have held our industry back for years.
The only way to change this is through engaging with young people and those outside the industry.
What have SPV done?
With this in mind, SPV have partnered with Juniper Training to offer a free bespoke offer that will equip young people aged 16-18 with everything they need to be Construction site ready to progress into employment or onto an apprenticeship.
The course will be delivered half from our purpose built workshop in Walsall which has been created to offer a safe and controlled environment and half from the Juniper Training centre in Walsall.
"Upon completion students will have gained a CSCS Card, Level 1 Introduction to Construction, Manual Handling, Fire safety, Asbestos Awareness and Manual Handling Training as well as hands on industry specific practical training in all areas of the roofing industry. Where needed, students can also do GCSE retakes and/or English and maths Functional Skills qualifications."
Learners will complete the 24 week course competent in all aspects of roofing, ready and able to work in the construction industry.
Throughout the course potential employers are connected with the learners in the expectation that they then progress into employment in the industry.
This is our main objective and as such we will be working closely with local roofing companies to introduce them to our new trainees and we have assurances that many companies will welcome the opportunity to employ people who have a sound basic knowledge of all areas of roofing.
If you are interested in this new venture or would like more information about this, please contact SPV on 01922 749 511 or Juniper Training on 01922 645 666.
For further information visit https://spv-uk.co.uk/training-academy/