Ecclesiastical and Heritage World
Dorothea Restorations

Bristol Vale Trading Estate
Contact Person:
John Wallis
Occupation:
Architectural Ironwork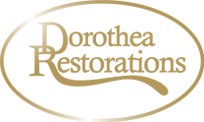 We provide a range of specialist architectural ironwork services to a diverse client base, including architects, heritage bodies such as the National Trust and English Heritage, local authorities, museums, building contractors and private individuals.
We apply the same traditional skills and craft to the creation of new-build architectural ironwork, including the reproduction of missing elements in historic settings.
Our craftsmen work with a wide range of materials including genuine wrought iron ('puddled'), cast iron, steel, copper and copper alloys (brass and bronze), tin, zinc, lead and gilded / decorative finishes, as well as associated masonry, carpentry, joinery and glazing.
Our work can be found anywhere that demands the very highest standards of craftsmanship: from architectural ironwork features (such as gates and railings, windows, verandahs and canopies, roof lights and domes, balustrades, staircases and balconies) through to complete architectural structures (including iron bridges, conservatories and glasshouses) and industrial heritage machinery (windmills, watermills, bandstands, and fountains).