Ecclesiastical and Heritage World
Historic Metalwork Conservation Company Ltd

Contact Person:
Peter Meehan BSC (Hons) ACR
Occupation:
Historic Metal Conservation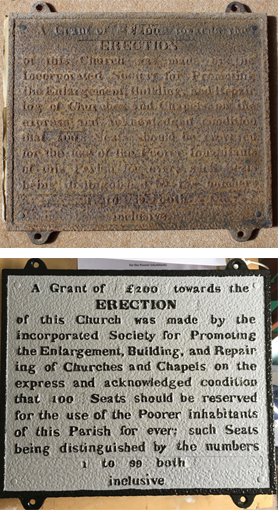 The Framilode cast iron plaque before and after conservation work by HMCC
Historic Metalwork Conservation Consultancy (HMCC Ltd) was established to provide conservation advice to all those charged with the care, management and preservation of historic metalwork in all its various forms, but with a particular emphasis on historic ironwork. In January 2014 the name was amended to Historic Metalwork Conservation Company Ltd.
Founded in the Autumn of 2011 by Peter Meehan, HMCC Ltd is able to provide comprehensive advice on the care and conservation of historic iron - wrought, cast & steel - as well as copper and its alloys - brass & bronze - lead, tin, zinc, silver and gold.
Historic Metalwork Conservation Company is able to offer the following services to clients:
prepare complete conservation reports
prepare condition reports
prepare specifications for conservation work
prepare 3D drawings of components and structures
undertake small scale conservation work
leaf gilding services
arranging for analysis of paint samples
object storage and care advice
photographic records
conservation budgets
collections care regimes
estimating for conservation work
maintenance programmes
management of conservation contractors
teaching on metals conservation and collections care
The Historic Metalwork Conservation Company is an approved member of the Conservation Register, run by the Institute of Conservation (ICON) in association with Historic England.