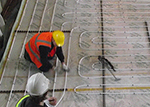 For several years Byfield Heating Ltd has felt proud and privileged to work closely with heating advisors on the York, Wakefield and Bradford Diocesan Advisory Committees.

On 9 October 2013 the Reorganisation Scheme was approved by an Order in Council - Her Majesty The Queen – who said yes to a new single diocese for West Yorkshire and the Dales to replace the three existing dioceses of Bradford, Wakefield, Ripon and Leeds. Being involved with these bodies and having a positive input into important decisions that affect their heritage is a constant source of satisfaction and pride to Byfield Heating.
Bob Middleton the MD of Byfield tells us: "The core of our success can be attributed to the unfailing commitment to quality in both materials and workmanship. The sympathetic approach to working in an architectural rich environment has won many accolades from heritage and ecclesiastical architects and PCC's alike throughout the north of England.
"Our proficiency in the design and installation of heating systems is reflected in the great number of churches, private schools and country houses enjoying the benefits of properly heated surroundings. This most desirable state of affairs not only favours the occupants but is also instrumental in preserving the fabric of these buildings by helping to guard against the detrimental effects of both thermal shock and internal condensation.
"Our philosophy is to provide installations designed to meet the needs of our customers, which means we lead the way in the development of new features for heating systems. Indeed, many of our competitors utilise technology initially researched and developed by Byfield Heating Ltd.
"All materials used on our systems are approved to meet exacting European standards relating to quality, safety, efficiency and the environment. Furthermore, our design, installation, commissioning and after sales service is certified and accredited by both GAS SAFE and OFTEC".


Bob and his team have left a trail of happy churches behind them over the years as the following testimonials show:
• Dear Sir, I want to thank you and your company for the sterling efforts made on our behalf on Christmas Eve, when we called you out to deal with burst water pipes in our loft. The promptness of your response, and the time spent here to rectify the problem were much appreciated. I particularly want to say a big "thank you" to Keith whose attention went far beyond the call of duty; when he learned that the diocese of York – it being Christmas eve – had no help to offer with regard to vax-suction machines and dehumidifiers, he lent us this equipment from his own garage. I think that's marvellous. I know Angela Jenkins, our churchwarden here, values the work you for our church in Tockwith and I want to endorse that with the work you did here at the Vicarage on Christmas Eve. Many, many thanks. Yours faithfully
Rev. M.R.Shaw 28th December 2010

• Dear Sirs, Thank you again Tony, Sean and Robert for a superb job! We appreciate the skill and attention to detail that went in to everything from original spec. through to final commissioning. We woundn't hesitate to recommend you to anyone in the market for a replacement oil tank or engineering work. Yours sincerely Mr Stride 10th November 2011
• Dear Sirs, We wish to thank you for your services, which are much appreciated and greatly enhance the facilities of our premises. Yours faithfully Mr W. Higginbottom 21st June 2011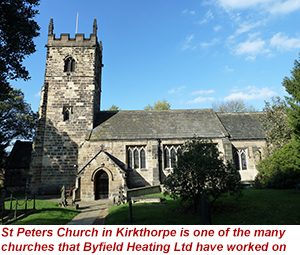 • Thank you for your immediate response to our broken pipework. St Peters Church, Kirkthorpe 24th February 2009.

• The work was undertaken by a good natured, hardworking and efficient engineer whose name I have unfortunately I have forgotten. Yours Faithfully Val Rodger.

• May we thank you guys for the prompt action initially installing a temporary tank and also the works done on installation of a new tank all went extremely smoothly with limited impact. Yours Faithfully Mrs. S.M.De'att 17th April 2008

• During the week commencing 2nd November Terry and Kevin from your company visited my property on three occasions to repair the heating system and I felt I had to let you know how grateful I was for the efforts they made on my behalf. They were professional, concerned for my welfare and very efficient, as were the staff in the office. Sadly, it is very rare today to get such good service from a company, especially as I live in a rented property and I am not the direct customer. So when it happens I felt that I had to let you know how much I appreciated the service I received from your company. Yours Faithfully J.Matthews 14th November 2009

• Just a short note to say many thanks for installing the heating pipes and radiators for the heating system at such short notice, the 48 children who came to the party on Saturday appreciated the warm atmosphere and had lots of fun. Once again thanks Roger, from all at St Andrew Church, Paul 7th December 2009
• Many thanks for all your help, we now can give a warm welcome to all who pass through our doors. Yours Sincerely Liz Pearson

• The central heating is very good; everyone is pleased with the system, even though some people's concerns are now that it's too warm at times. On behalf of everyone at St. Andrews thanks very much, especially to James and Craig. Yours Sincerely Shaun

• Thank you to Byfield heating for the excellent way you have replaced our heaters, we are very pleased with them and we look forward to a warmer church in the winter. Thank you for sponsoring me on my walk I raised £920 towards the cost of the heating. Kind Regards D.Clay 2nd June 2010
• If you would like to find out a bit more about these church and old building heating experts, with 40 years of experience under their belt visit www.yorkshireheating.co.uk