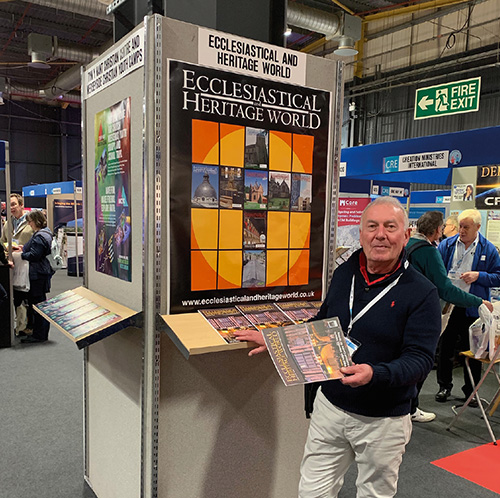 When Christian Resources Exhibitions (CRE) announced in June that this year's CRE National at Sandown would not be taking place because of COVID-19 restrictions, they had already decided that it would not be the end of the matter. If people could not come to CRE, CRE would go to the people: CRE At Home 2020 was already being planned.
The full programme of seminars and events that had been planned for Sandown would migrate online, to begin on 13 October – the day the event was to open. The result is a full series of webinars available to view for months after the original planned event.
As with traditional CRE exhibitions, each day of the planned event opened with Daily Worship, led by a notable personality in the world of ministry.
Another familiar feature from CREs past is Cindy's Sofa with the event's 'queen of conversation', Rev Cindy Kent MBE. The page – carried on the exhibition's YouTube channel – features interviews with some of CRE's best-known friends and contributors, who explain how they have coped with the pandemic. They include celebrity entertainers Sir Cliff Richard, Paul Jones and Don Maclean, as well as familiar faces such as Paul Kerensa and Jonathan Veira: plus, of course, Dana – who has opened three CREs over the years.
She told Cindy: "For decades, every time I walk on stage I recite the Magnificat: 'My soul doth magnify the Lord, my spirit rejoices in God my Saviour, for He that is mighty has done great things and Holy is His name."'
The whole ensemble was accompanied by a 64-page A-Z Directory, featuring all the organisations booked into the next two actual CRE exhibitions – at Westpoint in Exeter now on 23-24 June next year and CRE National 2021 at Sandown on 12-14 October.
Richard Shepherd, business development manager at Ecclesiastical and Heritage World (pictured at the magazine's stand at CRE North), is a regular visitor at CRE exhibitions throughout the country. He said: "These events are always worth a visit, even if only for the pleasant and friendly people there. The usual variety of stands all have one thing in common: the Christian spirit and goodwill. My experience is always of very professional and trustworthy experts in their respective fields."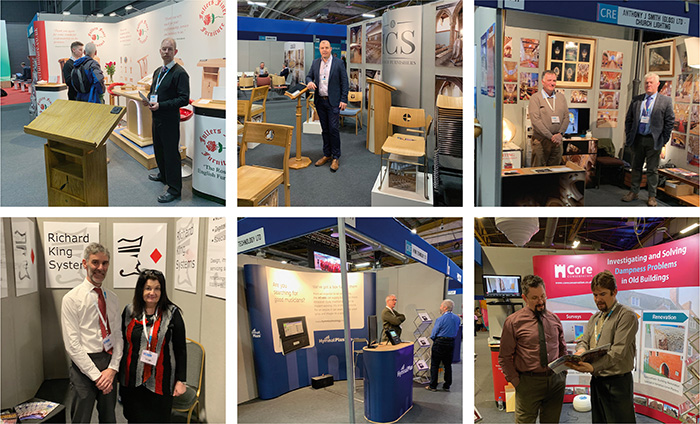 Over the years the CRE has provided church organisations with a focal point to source goods and products ranging from building solutions and furniture to lighting and sound systems, vestments and plate. Many exhibitors became regular fixtures, acting as a network of service providers. Its many quirky features included a series of 'Clergy on the Catwalk' fashion shows of vestments and the unforgettable My Church Needs One of Those competitions – the McNoot Awards.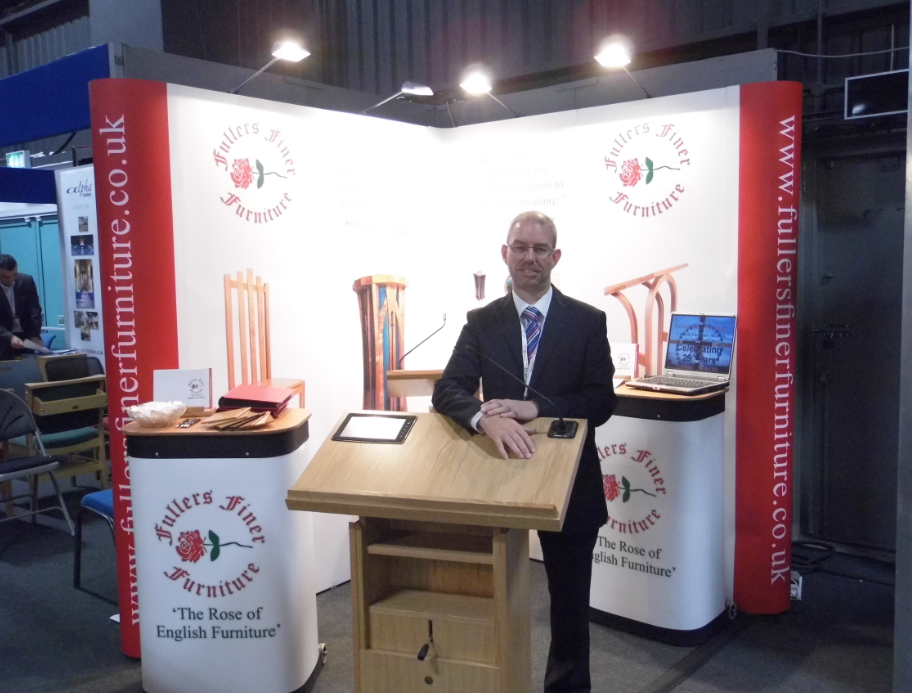 Among CRE exhibitors offering solutions to practical questions is Fuller's Finer Furniture, who travel from Weston-super-Mare to demonstrate a range of specialist church furnishing.
The company's managing director Paul Fuller (pictured right) told Ecclesiastical and Heritage World the shows are a success and an "opportunity to have good conversations with existing and new customers".
Fullers have been making their renowned height adjustable Canterbury and York Lecterns since 2001. Demand for these popular lecterns continues and Paul puts this down to a number of factors - click here for the full story.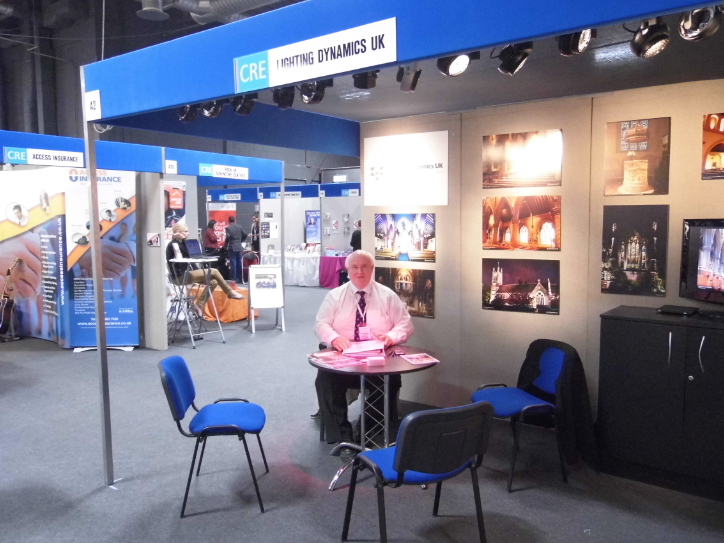 Pictured (right) is Gerry Browne of church lighting specialists, Lighting Dynamics - unusually alone at his stand as every time we tried to get to speak to him he was busy talking to interested visitors and showing them examples of his spectacular church lighting projects.
Indeed, Lighting Dynamics are regularly featured on the front cover of Ecclesiastical and Heritage World including a lighting project at the beautiful St Giles RC Church in Staffordshire. Gerry commented: "I believe that as one of Augustus Pugin's top UK building projects, there has been a considerable amount of architectural interest in the feature".
In its 35 plus years of existence, Christian Resources Exhibitions has grown to become one of the most important ecumenical events in the Christian calendar. There is no other exhibition in Europe that features so many organisations from such a broad church.
For more information on either upcoming CRE events, and to book stands, contact Carol on 0161 250 2467 or James on 0161 250 2306.