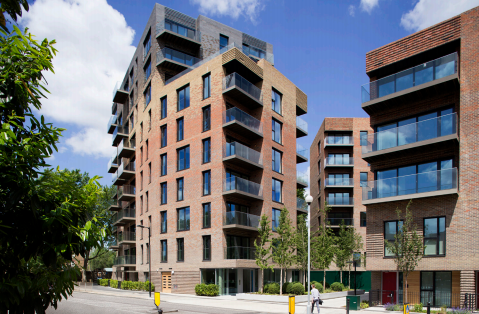 Trafalgar Place, residential scheme designed by De Rijke Marsh Morgan Architects (dRMM) has won the 'Best New Place to Live' and the 'Mayor's Award for Planning Excellence' at London Planning Awards, 2016.
As the first phase in Lendlease's regeneration of the former Heygate Estate, Elephant & Castle; Trafalgar Place is a scheme of 235 homes integrated within the historic fabric of the predominantly 19th century neighbourhood. The design reconnects the existing monolithic architectural interventions of the Heygate Estate and integrates the adjacent neighbourhoods.
The Mayor of London, Boris Johnson MP, praised the winning schemes saying:
"Top quality, creative planning is absolutely crucial if London is to continue to be the best city in the world to live, work and visit. Congratulations to the winners who are leading the way in innovative design to ensure we are creating the homes, offices, open spaces and cultural venues that are not only attractive to our communities, but will stand the test of time."
Trafalgar Place uses a rich combination of MBH PLC's Freshfield Lane clamp fired Danehill Yellow, Selected Lights, Selected Darks and First Quality Multi bricks, also winning the Best Housing Design Award at the 2015 Brick Awards. dRMM Architects' design for the redevelopment commissioned by Southwark Council and managed by Lend Lease is an important residential project to improve inner-city living. All participants of the project are delighted to be recognised by the Mayor of London Planning Awards with Trafalgar Place demonstrating that during a period where London seeks to cope with its chronic housing shortage, improving quality of life and displaying an awareness of the effects of the built environment have been paramount.

Steven Wallis, Associate at dRMM Architects said: "Freshfield Lane bricks were selected after an extensive review of alternative suppliers for dRMM's Trafalgar Place project. The bricks were selected for the unique character and high-quality nature of its brick range.
"Our design concept for Trafalgar Place was to mimic the colours of surrounding building context in a dynamically contemporary way by graduating colours vertically up the facades. The traditional clamp firing technique is prefect for ensuring a cohesive colour graduation.
"The staff at MBH PLC worked closely with Lendlease as the main contractor and Lee Marley Brickwork as the specialist brickwork contractor to manage the brick batching process to top affect. The same effect could not have been so successfully achieved with any other supplier."