Latest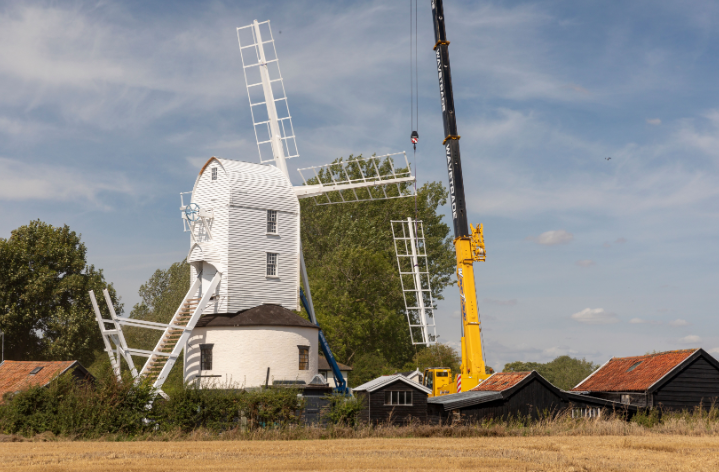 The future of a celebrated piece of Suffolk heritage has been secured yesterday, as English Heritage hoisted a newly-constructed set of sails into place on the 18th-century Saxtead Green Post Mill near Framlingham. The reinstallation of the mill's sails represents the culmination of a £250,000, year-long conservation project in collaboration with one of Suffolk's last remaining specialist millwrights.
The project is the first part of a major investment in historic windmills by the conservation charity English Heritage, with Sibsey Trader Windmill in Lincolnshire and Berney Arms Windmill in Norfolk both scheduled for works over the next few years. Earlier this year, traditional millwrighting – a skill that has been practiced in the UK for more than 700 years – was added to the Heritage Crafts Association's red list of critically endangered heritage crafts for the first time, with only a small number of people still practicing nationwide. English Heritage hopes that these important conservation works will help keep millwrighting alive.
Read more...
As Corten becomes increasingly popular for use in outdoor sculptures, conservators are playing catch-up with their preservation techniques. Peter Elliott of Nottingham-based All Steel Fabrications Ltd, specialists in the collaboration, fabrication and installation of Corten steel and other ctainless steel sculptures, offers this valuable insight.

The way in which Corten is used throughout a sculpture is conditional on its production form, i.e. plate rod, flats or structural sections.

Ordinary steel surfaces can be treated after the work has been completed and sculptors have used everything from powder coating through to paint and acid etching.

Read more...

Research commissioned by specialist heritage insurer, Ecclesiastical, has revealed just under a third (31%) of parents never visit stately homes and just under 1 in 7 (15%) never visit castles with their children.

Cost and distance to travel are the top two reasons that prevent parents from taking their children to stately homes and castles. While a perception that stately homes are not child-friendly and a lack of quality changing facilities at castles complete the top three.

Read more...

York Bookbinding owner Philip Winskill has been binding books from the day he started his apprenticeship 44 years ago.

He started at York University on 2nd September 1975 and bound, mostly periodicals, for the next 25 years. In January 2000 he was made redundant from the university but had already had his own bindery built by the side of his house in York.

Read more...

St Wilfrid's RC Parish Church in Preston city centre is a Grade Two*-listed Jesuit church which draws a substantial number of worshippers throughout the week. It is basilican in form and Italianate in style, with a particularly ornate and impressive interior carried out in exotic materials. Frank Roberts of Preston-based Francis Roberts Architects said of the interior: "Ranks of giant columns of polished Shap granite, topped with gilded composite capitals, define the nave, which terminates in a semi-domed and coffered apse. The aisle walls are lined in rich marbles and mosaics and there is an impressive display of stained glass."

Read more...

Entrance to this major heritage conservation day is free of charge. The event - to be held at the Queen Elizabeth II Conference Centre, Westminster on Tuesday 12th November - is all about the care, repair, conservation, maintenance, preservation and restoration of historic buildings, their contents and surrounding landscapes.

The all-day exhibition will consist of 75 exhibitors offering advice, solutions, guidance and support, as well as a wide and diverse range of products and services. Ranging from the traditional to cutting edge technology and across all areas of historic building and landscape conservation.

Read more...

Ecclesiastical Insurance has made a £12,500 grant to the Cathedrals' Workshop Fellowship (CWF) to support the conservation and repair of UK Cathedrals.

Working with nine cathedrals across the UK, including Gloucester, Canterbury, York Minster and Salisbury Cathedral, and in collaboration with the University of Gloucestershire, the CWF offers stonemasons, carpenters, joiners and electricians a recognised career path and route to higher qualifications through a two-year, work-based study programme.

Read more...

Towards the end of 2016, following several years of steady decline, the price of metal, and in particular lead and copper, showed an upturn. This meant that protected heritage sites and buildings were placed at an increased risk of metal theft.

In response the Home Office announced it would be reviewing the Scrap Metal Dealers Act 2013, which it duly carried out, with contributions from UK Policing, The Heritage Alliance, and British Metals Recycling Association among others.

Read more...

​Recently Houghtons of York completed the restoration of three over 6ft tall statues carved by John Skeaping, the husband to Barbra Hepworth for six years and well-renowned carver who is known best for his work in stone and equestrian pieces.

The statues were the artists last large scale commission, they were carved from Nigerian Opepe for Kings College Cambridge, below are some historic photos of them stood in place.

Read more...

John Wesley's Chapel in Bristol – known as The New Room – opened its doors in 1739 and is the oldest Methodist building in the world. It has been a place of worship, heritage and social action ever since.

In 2017 a new visitor centre opened in the Horsefair courtyard next to it, featuring a café, shop, atrium, library and archive, meeting rooms and new offices – as well as a revamped 12-room museum above the existing chapel.

Read more...

Specialist work to restore the intricate alabaster monument in Scone Palace's gothic chapel has been completed. A four week project, this is the first time the monument has undergone restoration work since 1921.

The work inside the small Presbyterian chapel, which looks upon the famous replica Stone of Scone on Moot Hill, has been completed by a specialist mason after a report by a conservation architect identified a number of areas requiring restorative work on the monument.

Read more...

During the lead up to Armistice Day thoughts were focused on the centenary of the end of hostilities in the First World War.

At furniture restorers Andrew G Podmore & Son in York restoration work is progressing well on the memorial for members of the Lancashire and Yorkshire Railway who lost their lives in the conflict.

At the outbreak of war in 1914 the company had a 37,000 strong workforce. Over 10,000 would volunteer for the armed forces and 1,422 would lose their lives.

Read more...

At Suffolk-based Rickards Period Plastering Ltd they feel fortunate to have the opportunity to be working in an area of the country that has a wealth of unique architectural design, using what they feel is a special product: the chalky lime plaster and render. Here, Mike Rickards shares his enthusiasm for traditional plasters.

Read more...
<<

Start

<

Prev

1

2 3 4 5 6 7 8 9 10 Next > End >>


Page 1 of 83