Latest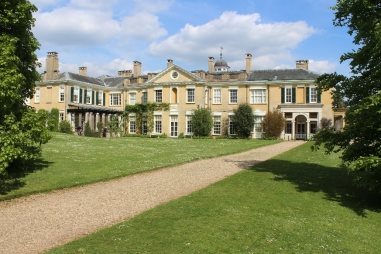 ECEX has installed a new fabricated stair to improve access safety between roof areas at the National Trust's Polesden Lacey property located on the North Downs near Dorking, Surrey. Polesden Lacey is an Edwardian house and estate owned and run by the National Trust - it is one of the Trust's most popular properties.
ECEX completed the survey, design, fabrication and site erection of the fabricated steel stair with non-slip GRP treads, with the additional design challenges of very limited access for materials and maintaining the aesthetic of a heritage property.
Read more...
It's not too late to get to CRE National 2019

Tomorrow (Thursday 17th) is your last opportunity to experience all that the Christian Resources Exhibition has to offer, including:

Our first-ever Ladies' Day, with special seminars addressing issues faced by women in church and society today. Special guest speakers include the Bishop of Dorking, Rt Rev Dr Jo Bailey Wells.
Music from Marilyn Baker, Daughters of Davis and Christine Asamoah.
The Compassion Experience - what is life like in a slum community? Find out in this eye-opening, interactive feature.

Read more...

When talking about the use of lime, the 'conversation' regarding hydraulic sets must have been going on for millennia – ever since, in fact, lime mortar became a thing. Here, Harry Cursham of Vivus Solutions Ltd postulates that hydraulics aren't all that they seem:

"Where the local limestone contains clay minerals inter alia, the lime made from it will naturally have some hydraulic properties – it is not possible to get away from that basic scientific truth. The temperature of the burn does also have an effect: hotter leads to more efficient hydraulicity; cooler (less energy) leads to less efficient hydraulicity. An interesting correlation to our modern-day efforts to reduce greenhouse gases!

Read more...

The one-time Manfred Mann harmonica-playing Paul Jones had a powerful backing group as he opened the Christian Resources Exhibition at Sandown Park, Surrey on 15 October.

Early visitors to the exhibition joined in as he played and sang through the song he helped write many years ago - 5 4 3 2 1.

And he ended with a swirl on the harmonica and the crowd roaring out the five-stroke countdown to open the show.

Read more...

2020 will see the 150th anniversary of the well-known roofing company John Williams & Company and our first issue of next year will carry an in depth feature on the company, showcasing one of their prestigious projects on the front cover and looking at the changes they have seen throughout the last century and a half.

When the company was established in 1870, it had already seen other manifestations that could date back as far as 1822, in Bangor, North Wales. In 2004 the present company John Williams & Company (Contracting) Ltd was formed.

In the intervening years, and since, the company's craftspeople have worked on many prestigious buildings, including Tower Bridge, St James's Palace and The British Museum in London; Rochester Cathedral and Portchester Castle in the South East and many famous hotels and mansions up and down the country.

Read more...

Sound Space Vision is delighted that its latest project, Fairfield Halls, opened in mid-September after a three-year restoration and renovation led by MICA Architects.

After completing a feasibility study for the council-owned building in 2011, Sound Space Vision was appointed in 2016 and charged with completely replacing the performance lighting, sound, and communications infrastructure for all of the Halls' performance spaces – the Phoenix Concert Hall, the Ashcroft Playhouse, the Arnhem Foyer, and The Rec and Talawa studios.

In the 1,800-seat Phoenix Concert Hall we focused on restoring the canopy to its original appearance for unamplified events by raising the loudspeakers, rigging and cabling through the canopy when not required. Acoustic banners have also been integrated through the auditorium to better serve amplified events.

Read more...

Amongst the quaint and more unusual things manufactured and installed by Houghtons of York are secret or jib doors. These will very often be part of library installation projects where the company have disguised these to blend into bookcases or elsewhere into wall panelling, wardrobe doors and even simply wallpaper.

To introduce these charming and beguiling features, Houghtons produce jib doors from of a variety of materials, faux book spines plus concealed hinges and handles to produce that convincing illusion.

Read more...

Marley Alutec, the UK leader in innovative aluminium rainwater, fascia, soffit and coping solutions, will be exhibiting at this year's Historic Buildings and Garden Event at the Queen Elizabeth II Conference Centre on the 12th of November (Stand D27). The company will showcase its innovative gutter and downpipe ranges, which are the ideal replacements for cast iron.

One of Marley Alutec's most popular ranges, the Traditional aluminium gutter system will feature at the event. Manufactured to original British Standard cast iron dimensions BS8530 and available in Half Round, Victorian Ogee and Moulded Ogee profiles, the range is an ideal replacement for cast iron rainwater systems and is suitable for listed buildings and conservation areas.

Read more...

Most people whether they have artwork at home on their wall or are visiting a gallery or museum never actually realise how important the frame is to the artwork it is housing and how it adds to their enjoyment of the piece of artwork they are looking at.

Frames are not just there to protect and support the art work inside, the structure of the frame along with the design and the materials it is made from must enhance and compliment the art work that it is showcasing, but not so much so that it overpowers of takes away focus from the art.

Read more...

Tudor Roof Tiles Co Ltd, Britain's foremost independent handmade clay roof tile manufacturer, has supplied bespoke handmade clay roof tiles for the prestigious 2019 RIBA National Award-winning King's College Music School, in Wimbledon.

Previously winner of a 2019 RIBA London Award, the new £10 million Music School, designed by Hopkins Architects Partnership, comprises three volumes: a triple-height 200-seater auditorium with a stage for a 70-piece orchestra, a second volume housing music teaching rooms and a large rehearsal space, plus a third volume for practice rooms and offices.

Read more...

Masons and conservators across the UK and beyond are rediscovering traditional mortars through research, use and experience. They are moving away from the default specification of natural hydraulic limes for conservation works and are determined to practise like-for-like repair.

A registered charity, the Building Limes Forum exists to encourage that expertise and understanding in the appropriate use of building limes, and to promote education in the standards of production, preparation, application and aftercare. Throughout the year, the organisation invites its members and others to learn, discover and share knowledge about the use of building limes through talks, practical demonstrations and tours of historic sites.

Read more...

The award-winning York Handmade Brick Company has invested in a brand-new brick dryer – designed and built by production manager Steve Pittham.

Steve, who has been with York Handmade since it was founded 30 years ago, created the state-of-the-art dryer from scratch.

The dryer is capable of handling more than 33,000 bricks at a time, significantly speeding up York Handmade's production process and make the company even more efficient.

Read more...

The way of the future with heating systems in churches and other historic buildings is with renewables. Mellor and Mottram have been at the cutting edge of this green revolution with the installation of a number of renewable systems in a variety of buildings.

In large buildings the most popular systems are ground source or air source heat pumps. As the names imply, both utilise heat already latent in the environment. In the case of a ground source system the heating is derived from heat already stored in the ground. Air source pumps absorb heat from the air outside – even at low air temperatures they can work efficiently. Both can be used to heat both hot water and the building itself.

Read more...
<<

Start

<

Prev

1

2 3 4 5 6 7 8 9 10 Next > End >>


Page 1 of 84