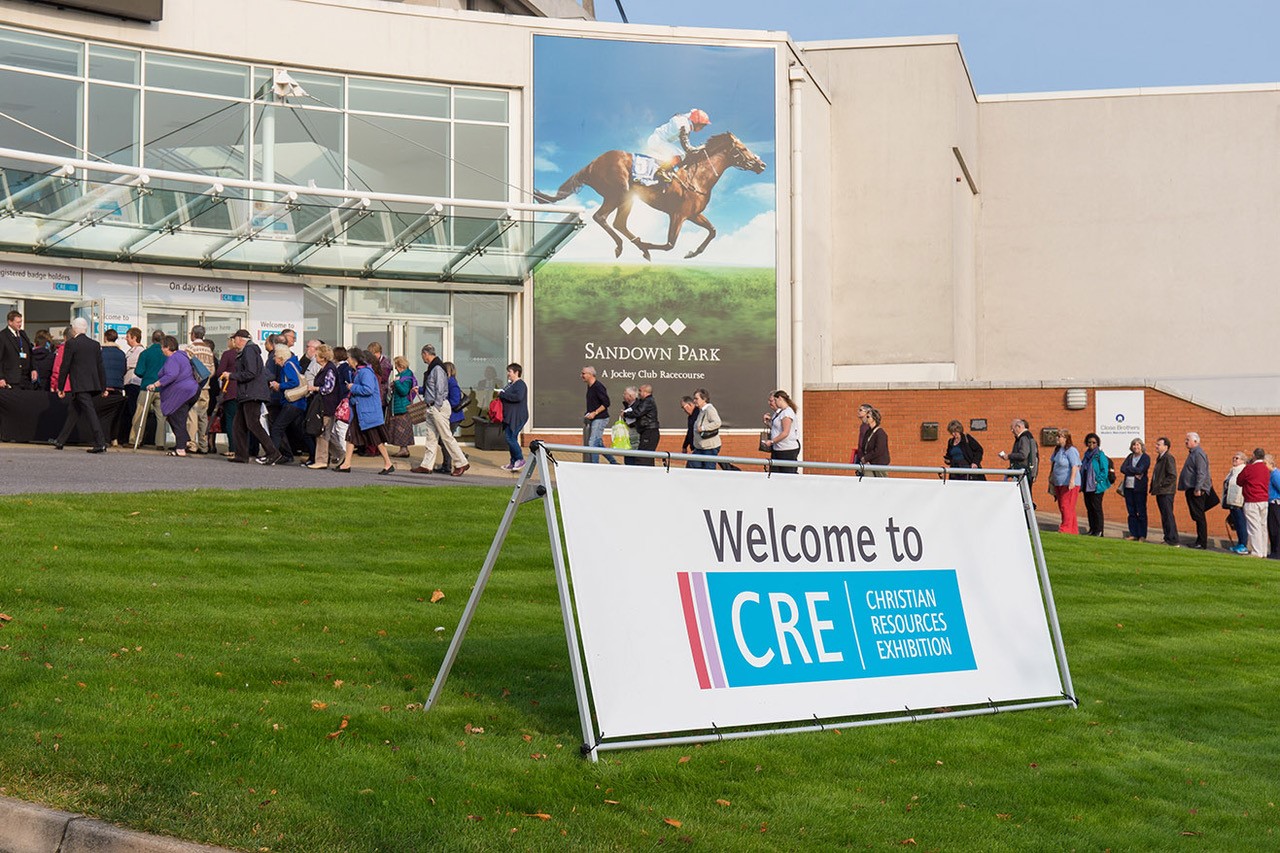 Almost 90% of floor space sold with five months to go: that's the good news from the Christian Resources Exhibition, taking place at Sandown Park in Surrey from 16-18 October.
Now in its 34th year, Europe's leading annual exhibition of church-related products and suppliers returns to its ever-popular spiritual home this autumn. Some 200 exhibitors include many who are returning after having lost touch with the show.
That, according to new owner Stephen Goddard, is always satisfying. After briefly flirting with the capital in the form of ExCeL, and following a change in ownership and management, the show responded to exhibitor and visitor feedback last year and returned to its roots.
As the show organisers proclaimed: "It's 30 years since we first set foot on Esher's hallowed turf and more than three years since we last brought Europe's leading annual exhibition of Christian resources to the venue. But after listening to dozens of valued exhibitors, we were told in no uncertain terms - Sandown Park is where CRE belongs!"
The success of last year's show, with over 4,000 visitors to the 200 stands, together with the many returning exhibitors, demonstrates the continuing need for the exhibition.
One of the reasons for that is the quality and breadth of advice that is available from its knowledgeable exhibitors. One example is Allan Turpin, design consultant for exhibitor Nelson Catering Equipment. Allan knows all about the pitfalls that can befall the unwary.
"These days, anyone using a kitchen within a church hall, even if it's just for tea and cakes, needs to adhere to professional food hygiene rules and health and safely standards," he said. "We are very familiar with all aspects of the legislation and working out a good, safe design that adheres to the requirements is second nature to us."
Another area of increasing importance is making churches accessible to people with disabilities. Specialist designers CPL Architects will also be at Sandown Park, to help church leaders develop their buildings and, in particular, provide facilities for people with learning difficulties.
Many Christian groups are looking to redevelop their land and buildings to achieve their mission objectives for the next 30 years and
contain numerical growth," said managing director Phil Winch. "Others are concerned that the inadequacies of their present buildings are seriously affecting their ministry. Many wish to appoint an organisation which shares their Christian vision and has the skills to provide a strategic appraisal of their current facilities; and to take an agreed project through from conception to completion."
In addition to the advice available from exhibitors, CRE 2018 will also feature more than 40 seminars and workshops on a range of practical subjects concerning the maintenance and mission of local churches.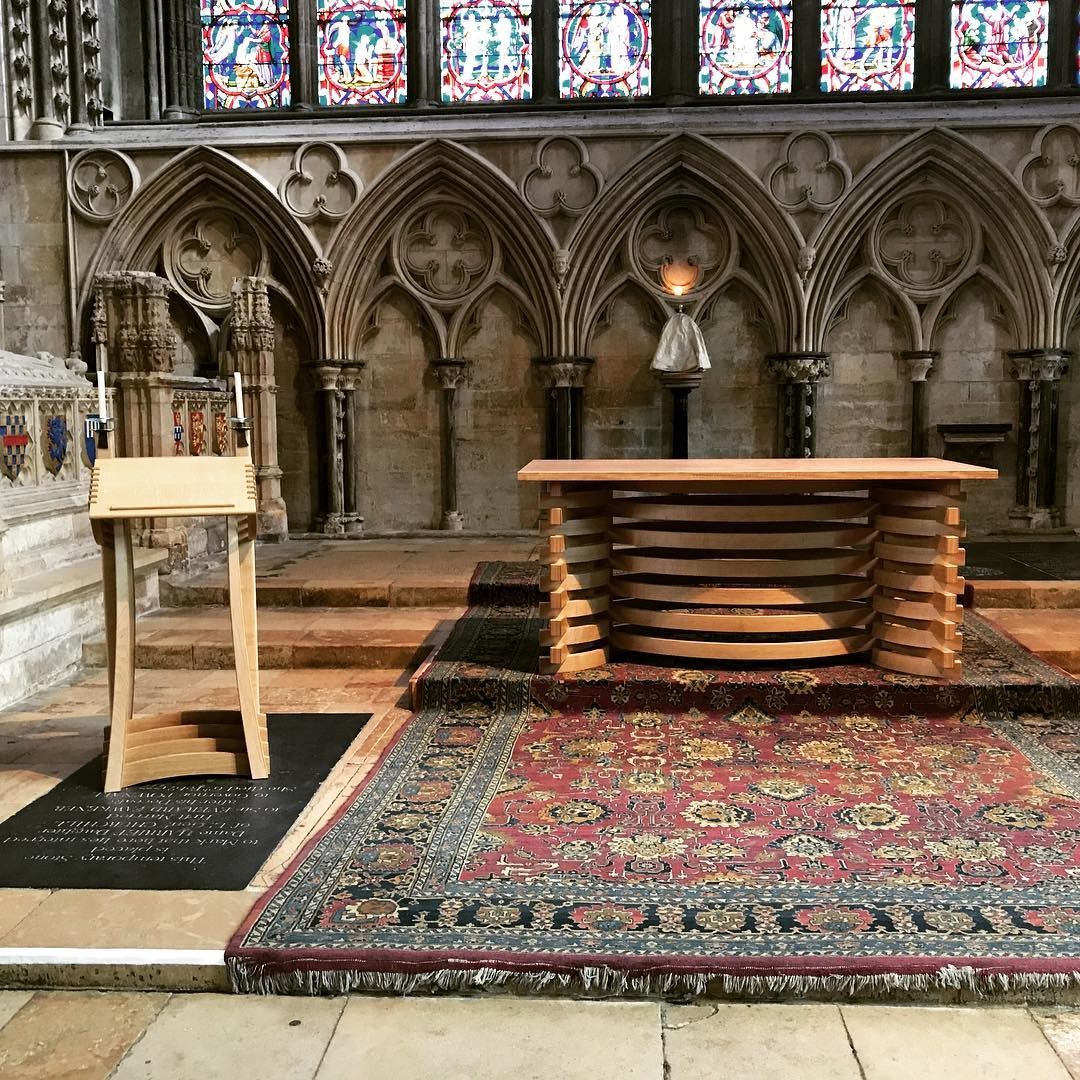 "Over 4,000 local church leaders attended CRE 2017," said event director Bren Pitchfork. "We are confident that a similar number will visit Sandown Park again this year at an event which aims to provide inspiration and innovation, for the whole congregation."
Over the years the CRE has provided church organisations with a focal point to source goods and products ranging from building solutions and furniture to lighting and sound systems, vestments and plate. Many exhibitors became regular fixtures, acting as a network of service providers. Its many quirky features included a series of 'Clergy on the Catwalk' fashion shows of vestments and the unforgettable My Church Needs One of Those competitions – the McNoot Awards.
Exhibiting at Sandown last year was master craftsman Nicholas Hobbs. Nicholas hand made the beautiful new furniture recently installed at the Shrine of St Hugh in Lincoln Cathedral (pictured left). You will find more work from Nicholas on his website at www.nicholashobbs.com.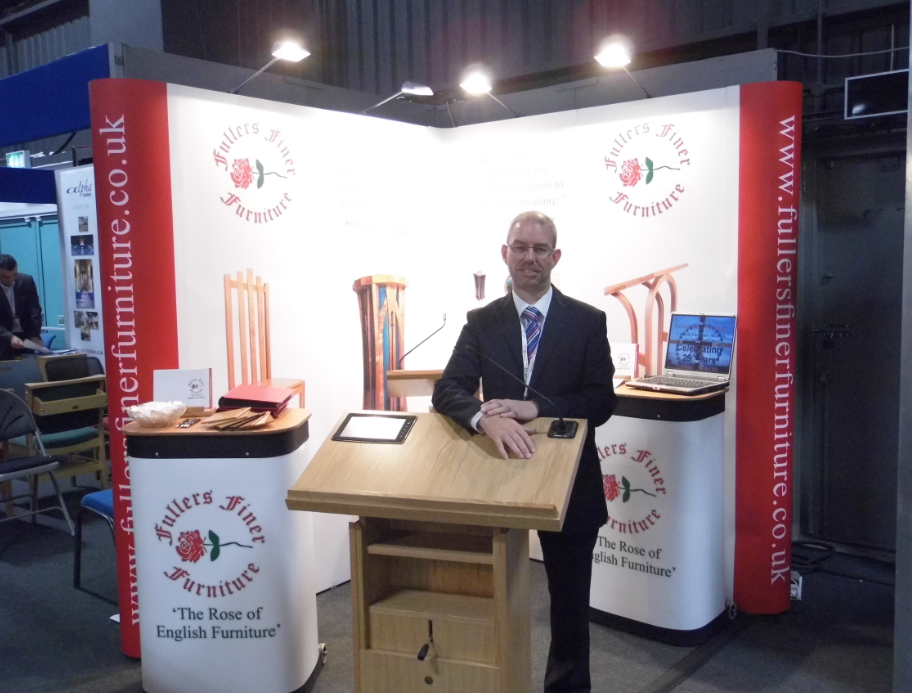 Richard Shepherd, business development manager at Ecclesiastical and Heritage World, is a regular visitor at CRE exhibitions throughout the country.
Said Richard: "These events are always worth a visit, even if only for the pleasant and friendly people there. The usual variety of stands all have one thing in common: the Christian spirit and goodwill. My experience is always of very professional and trustworthy experts in their respective fields."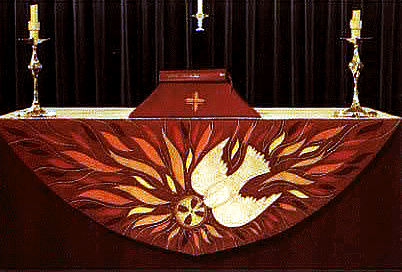 Among CRE exhibitors offering solutions to practical questions is Fuller's Finer Furniture, who travel from Weston-super-Mare to demonstrate a range of specialist church furnishing.
The company's managing director Paul Fuller (pictured above) told Ecclesiastical and Heritage World the shows are a success and an "opportunity to have good conversations with existing and new customers".
Fullers have been making their renowned height adjustable Canterbury and York Lecterns since 2001. Demand for these popular lecterns continues and Paul puts this down to a number of factors - click here for the full story.
Another regular CRE exhibitor is Juliet Hemingray Church Textiles. As well as offering standard designs, they specialise in commissioned pieces on items such as vestments, banners and altar frontals - such as the one pictured (above) at Christ Church, Cotmanhay in Derbyshire.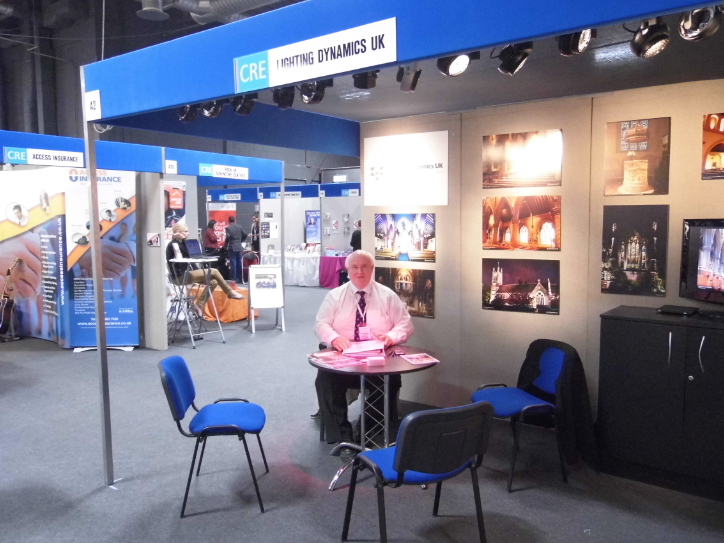 Pictured (right) is Gerry Browne of church lighting specialists, Lighting Dynamics - unusually alone at his stand as every time we tried to get to speak to him he was busy talking to interested visitors and showing them examples of his spectacular church lighting projects.
Indeed, Lighting Dynamics are regularly featured on the front cover of Ecclesiastical and Heritage World including a lighting project at the beautiful St Giles RC Church in Staffordshire. Gerry commented: "I believe that as one of Augustus Pugin's top UK building projects, there has been a considerable amount of architectural interest in the feature".
In its 32 years of existence, Christian Resources Exhibitions has grown to become one of the most important ecumenical events in the Christian calendar. There is no other exhibition in Europe that features so many organisations from such a broad church.

Audio visual equipment in church buildings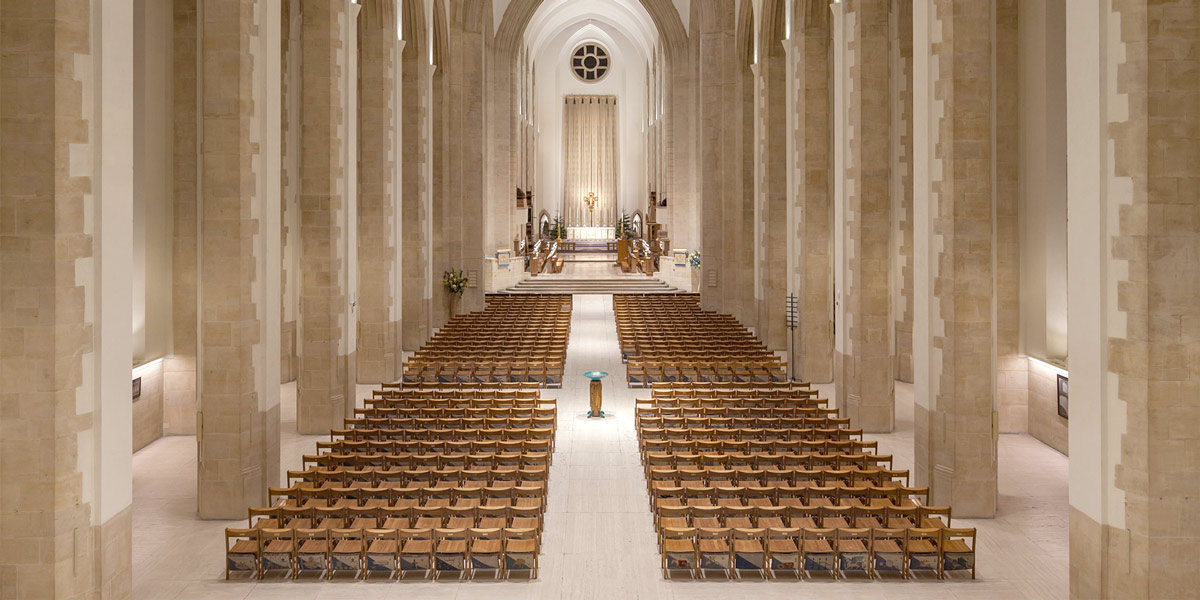 One recent challenge for DM Music Ltd was undertaking a complete overhaul of the audio system at Guildford Cathedral. This has been part of the Cathedral's repair work with significant proportion of funding from the Heritage Lottery Fund.
The three main challenges for the DM team were to:
Offer high intelligibility for the spoken word in a large and reverberant space.
Install a discreet but capable audio system that's architecturally sensitive.
Give simplicity in use for regular operators but with flexibility for special events and external groups.
Through careful design, installation and commissioning DM Music have combined technology and experience to deliver a system that goes beyond the requirement. Ultra discreet, high performance speakers, wireless iPad control, digital audio distribution and processing have all played a part in enabling them to deliver a system suited to the Cathedral's needs, now and for the future.
The key equipment used comprised K-Array discreet speakers and subwoofers, Yamaha MTX Audio Processors and Crestron control / iPad control.

For further information visit www.dmmusic.com
The 'family GP' for your church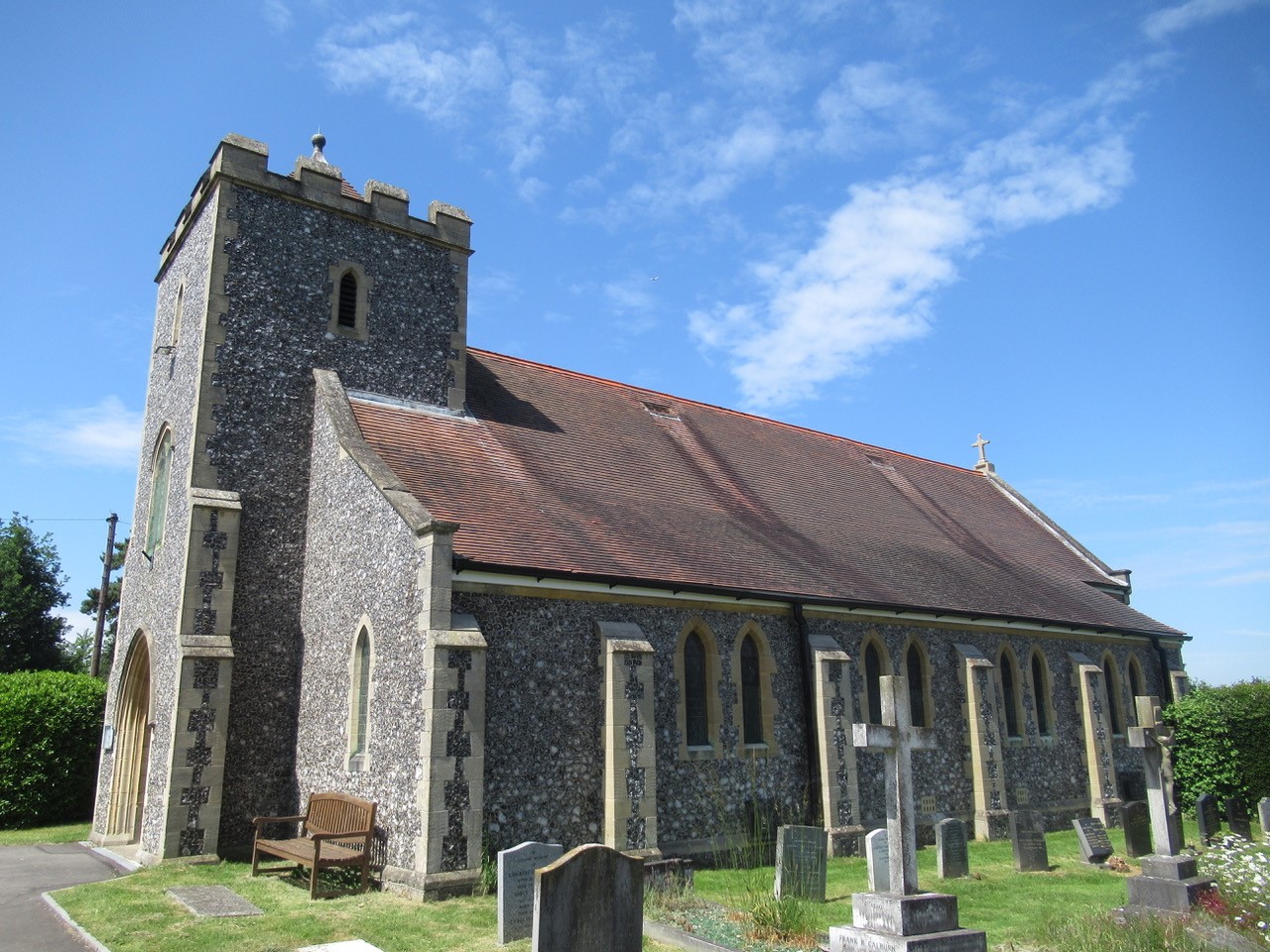 What are Quinquennial Inspection Reports?
Under the Inspection of Churches Measure 1955, as amended by the Care of Churches and Ecclesiastical Jurisdiction Measure 1991, all consecrated buildings of the Church of England must by law be inspected once in every five years by a registered architect or chartered building surveyor (the 'Quinquennial Inspector' or QI) who is approved by the Diocesan Advisory Committee (DAC). Most other denominations and many secular organisations which are responsible for historic buildings now adopt a similar approach to inspections.
Surrey based chartered surveyors Chawton Hill Associates summarise ChurchCare's guide on selecting a QI as follows:
The professional should be suitably qualified and 'whose training, accreditation and experience in buildings conservation corresponds with the complexity and significance of the church building'
If your church is listed (Grade 1 or 2) or classified by the Church Buildings Council as a Major Church, the QI should have demonstrable experience of work with buildings of that listing grade
The person should take time to understand the needs and vision of the parish
Any potential QI should be invited to visit the church and meet members of the PCC or fabric sub-committee before appointment
Inviting 3 candidates to review is good procurement practice
You should check the value of the QI's professional indemnity insurance (bearing in mind that £250,000 for each claim is a good minimum)
Check the QI's report format covers the repair of the building, maintenance, sustainability, safety of the structure, unsafe floors and access
Where issues are identified check these will be graded according to the urgency of the repair:
A – Urgent, requiring immediate attention
B – Requires attention within 12 months
C – Requires attention within the next 18 – 24 months
D – Requires attention within the quinquennial period
E – A desirable improvement with no timescale
M – routine items of maintenance
Chawton Hill Associates will be attending this year's CRE show at Sandown Park in Surrey - Stand S108 (just follow the signs towards Cindy's Bar at the opposite end of the hall from the main entrance) where you will find information on their extensive ecclesiastical experience and details of their Quinquennial Inspection Report 'CRE Show' special offer.
For further information visit www.chawtonhill.com/quinquennial-inspection-reports
CAVS install new AV system 'seamlessly' at St James Church, Trowbidge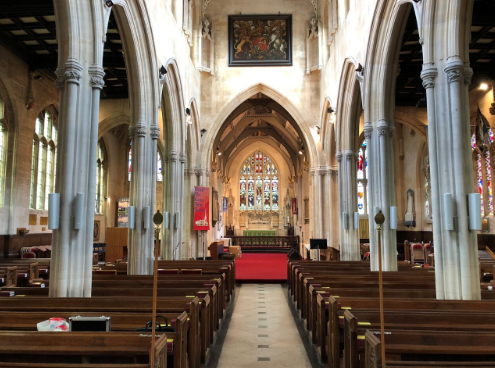 Creative Audio-Visual Solutions (CAVS) are a dedicated church audio and visual supplier working throughout the UK.
The Hertfordshire-based company were recently commissioned to install a new audio and visual system into the Parish Church of St James in Trowbridge. The brief was to ensure that that all new equipment fitted seamlessly into the environment whilst providing the latest technologies for full range worship and advanced multimedia display.
The visual system consists of 3 discreet winched projection screens which hide behind the arches when not in use. These utilise 7,500 and 5,000 projectors for the highest image quality across all sources from words to pictures and video. An HD motorised camera was installed – allowing close-ups of activities to be projected as well as providing the means to record and stream services online. Flexible HDMi connectivity was installed for laptop and 'comfort' monitor connection.
The audio system features 12 column array speakers to fit with the pillar décor – sublimated with 2 subwoofers to provide true full range sound amplification. A digital matrix processor ensures the audio system is fully tuned to the room and the likeliness of feedback and other acoustic anomalies is virtually eradicated. A digital mixer with wireless iPAD control was installed allowing for all types of operator and the simple recall for different types of service at the touch of a button. A portable digital stagebox provides up to 16 instrument inputs at the platform for a large worship band.
New radio microphones were installed along with audio playback (including Bluetooth connectivity) and recording systems. Finally, the system equipment was installed within a bespoke console - utilising parts of the church pews to marry effortlessly with the building's aesthetics.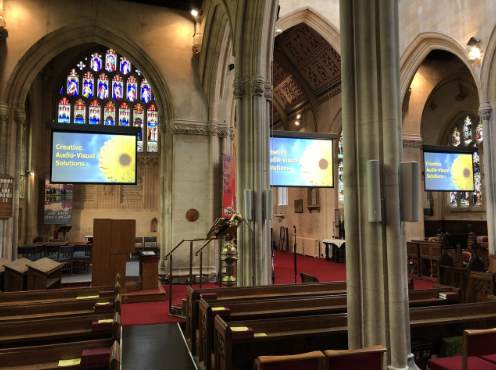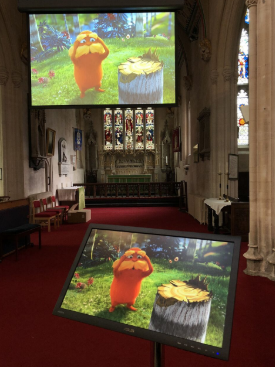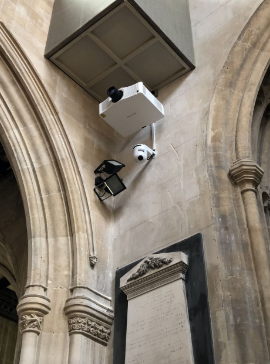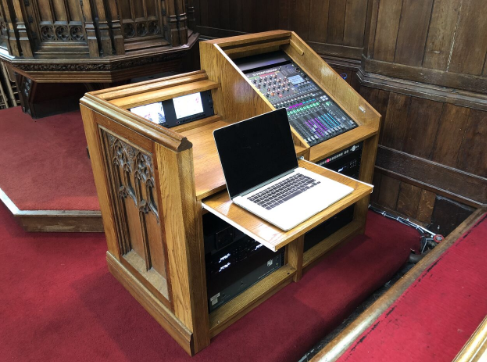 For an onsite consultation or for advice on the right equipment for your church call and see CAVS at CRE Sandown, Stand S152 or email: sales@cavsolutions.co.uk Local references are available upon request. 'Like' them on Facebook (cavsolutions) for the latest installation case studies and product news or visit www.cavsolutions.co.uk
Church furniture specialists provide a Finer product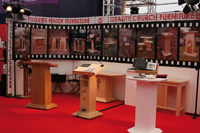 Fullers Finer Furniture is based in Weston-super-Mare, Somerset and was established in 1985. From humble beginnings they now design and manufacture church furniture on a national basis. Although they offer furniture both commercially and for the home, it is church furniture that they specialise in. From bespoke items to the award winning gas height adjustable Canterbury Lectern, right through to restoration work and complete reordering of church furniture, Fullers provide a high quality comprehensive service with distinctive attention to detail.
The award winning Canterbury Lectern and its big brother The York Lectern are gas height adjustable to suit the needs of any congregation. With its stylish design it comes in a number of finishes including oak, ash, beech, mahogany and maple.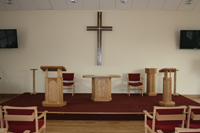 Fitted with microphone sockets and the option of an LCD video monitor these fine portable lecterns will fit perfectly into any type of church building.
They are also able to design and make to order communion tables, fonts, A/V cabinets, table top lecterns, choir frontals, communion rails, flower stands and much more.
You can see a video demonstration of the Canterbury and York Lectern's by clicking here.
www.fullersfinerfurniture.co.uk
How to get the most from your church space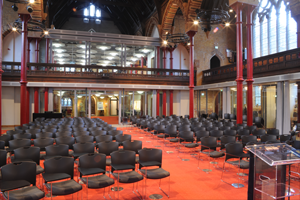 A well planned Church or Church hall helps you to get the very most from your space. The ability to change and adapt seating layouts allows you to cater for a whole range of activities: different services aimed at different groups of people, community events within the Church and wider community events.
Mogo Direct's range of chairs is designed to be versatile, space-efficient, durable and easy to handle, from their comprehensive range of folding chairs and storage trolleys, to a selection of stacking chairs to suit all budgets and settings.
Launched at CRE Sandown 2011, the premium quality Jasper chair has since proved a popular choice with both Churches and architects. Admired for its contemporary yet timeless design that complements both traditional and modern Churches, as well as its stackability and range of options. Tested to BS EN 15373:2007 for strength and stability and backed by a 10 year guarantee, the Jasper has been designed and built to last.
You can see the Jasper chair on the Mogo Direct stand at the Christian Resources Exhibition at ExCel this May, as well as the rest of their range of stacking and folding furniture. If you can't wait until then, get in touch with them for further information or to request a sample. For more from this company visit their website www.mogodirect.co.uk
Ancient and modern: hi-tech AV company returns to CRE
The unique blend of ancient buildings and the latest technology that epitomises the modern church will be in evidence once more at the International Christian Resources Exhibition at ExCel in May in the persons of audio-visual specialists DM Music and installation division DM Installation Projects.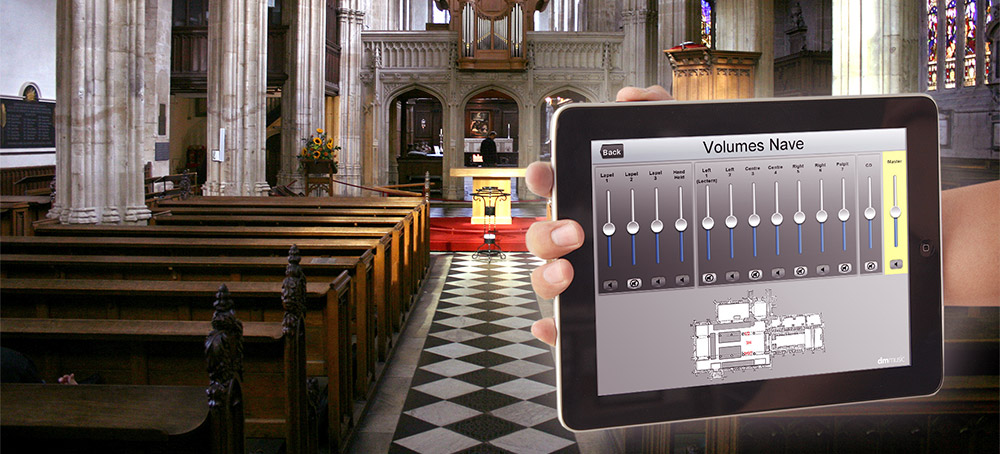 The company will be presenting some of the latest audio-visual technologies particularly suited to church use, which this year will include iPad touch screen control systems from Crestron that allow complete wireless control of audio, including level control in different zones, remote audio playback and recording. Primarily, the systems allow for very simple operation of complex systems; but they also offer huge flexibility and lots of possibilities for system expansion in the future.
It's not just audio, either; the systems can control electric screens, projectors, lighting, heating – you name it. Simple accessible control is just a fingertip away, anywhere in the church building.
As well as an installation in Wakefield Cathedral, DM recently completed a full sound system at the University Church of St Mary the Virgin in Oxford: part of a £5.5m restoration of the historic church which saw the final sermon of Thomas Cranmer prior to his burning at the stake in 1556 and the launch of the 19th-century Oxford Movement by John Henry, later Cardinal, Newman.
The system includes a number of very discreet K-Array speakers and complete iPad control via a Crestron System. Such a success was the installation that the director of DM Music and DM Installation Projects were invited to the official re-opening service.
For more information visit www.dmmusic.com
Illuminating - another stunning church project from Lighting Dynamics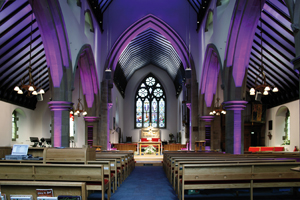 Lighting Dynamics UK (incorporating Ecclesiastical Lighting), based in Sutton Coldfield, West Midlands, continue their development as one of the UK's premier companies specialising in the interior and exterior illumination of cathedrals, churches and other places of worship.
The company is dedicated to offering a totally independent, creative and unbiased lighting design and consultancy service and, where required, they can supply all of the associated specified lighting equipment.
Lighting Dynamics has a long established reputation for creating practical and architecturally sympathetic lighting schemes. Wherever possible, discreet lighting equipment is specified and installed to produce suitable levels of task and ambient illumination and to highlight both ecclesiastical features and any special architectural details.
Their comprehensive range of modern, energy saving, long life lighting equipment is manufactured from the highest quality materials and takes into consideration many important factors such as reliability, durability, optical performance, overall efficiency, size, style and ease of maintenance, to name but a few.
The company is just about to launch a brand new family of the very latest bespoke LED fittings, specially designed for all types of ecclesiastical lighting tasks. This range of products has been under development for some considerable time and takes their overall lighting portfolio to the next level of technical innovation.
Lighting Dynamics also has an unrivalled knowledge and expertise of all modern intelligent dimming and lighting control systems.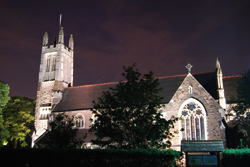 Lighting Dynamics has a significant number of very prestigious church lighting projects currently in progress with a large number at advanced stages of planning and design.
Company founder, Gerry Browne commented: "This is a very exciting time in the further development of church lighting, especially with such a great and diverse range of modern light sources now coming on stream."
He has found that customers are increasingly looking for a company with the flair and experience to provide a quality lighting design, whilst also specifying top grade lighting equipment and controls that will give longevity, reliability and overall flexibility for their ecclesiastical projects.
Gerry continued: "In the main, clients no longer wish to see their church lighting project looking like an extension of somebody else's lighting showroom or lit with industrial style floodlights to resemble a railway marshalling yard. It can be a dedicated process which involves advising, informing and demonstrating what can be achieved."
Lighting Dynamics has, if required, a fully qualified team of NIC EIC registered electricians able to carry out the installation of interior and exterior lighting systems to current electrical standards and regulations.
The company covers all of the UK and Ireland and provides a bespoke service for each individual church lighting project, from initial meeting right through to final focusing and commissioning. In Gerry's words "Lighting Dynamics UK can provide the ultimate lighting service."
Recently completed lighting design and supply projects include:
• St Wulfram's Church, Grantham – one of the finest magnificent medieval churches in England.
A phased interior lighting upgrade including the latest ceramic halide and low volt tungsten light sources linked to analogue lighting control systems.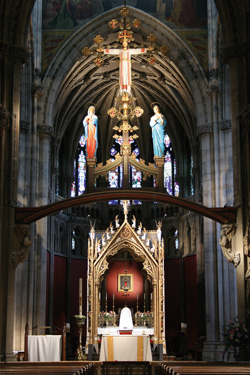 • All Saints Church, Daresbury – a beautiful parish church set deep in the Cheshire countryside only a few minutes from Warrington. The church is well known for its connection with the Alice in Wonderland author Lewis Carroll.
As well as the complete interior lighting upgrade, the stained glass Lewis Carroll Memorial Windows (a must for visitors) have also been feature illuminated by new externally placed luminaires. A comprehensive lighting control / dimming system allows maximum flexibility.
• St George's Church, Poynton, Cheshire – located between Stockport and Macclesfield, St George's is positioned at the heart of the village and was built in the Victorian Gothic style.
Complete interior lighting upgrade incorporating colour change LED light sources linked to a DMX lighting control system.
• St Augustine of Hippo Church, Edgbaston, Birmingham – The building in a geometric Gothic style has numerous stone carvings and a striking painted chancel ceiling and is an outstanding Victorian landmark.
Complete interior lighting upgrade including the latest ceramic halide, LED and low volt tungsten light sources linked to analogue lighting control systems.
• St Michael and All Angels Church, Penkridge – A collegiate parish church set in a beautiful Staffordshire village.
Complete interior lighting upgrade including the latest ceramic halide and low volt tungsten light sources linked to analogue lighting control systems.
• St Agnes Church, Moseley, Birmingham – Sited on an island location in the heart of the beautiful conservation area of Moseley.
Exterior lighting upgrade of tower and four main elevations of the building utilising the latest ceramic halide and tungsten light sources housed in modern IP 68 rated in-ground recessed luminaires.
• Holy Trinity RC Church, Sutton Coldfield – A more modern style building with high arched windows and a beautiful wooden ceiling reminiscent of the ceiling depicted in Leonardo Da Vinci's The Last Supper.
Interior and exterior lighting upgrade linked to complete lighting control.
Electrical installation of all of the above projects has been carried out by the Birmingham based NIC EIC registered electrical contractors A J Electrics (Coleshill) Ltd.
• For further information about Lighting Dynamics UK please visit www.lighting-dynamics.co.uk

Full sound and visual system for Somerton St Michael and All Angels Church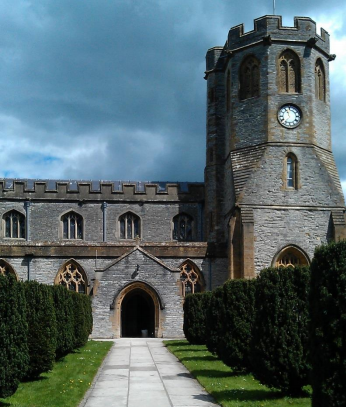 The church of St Michael and All Angels is reputed to be an abbey church, and has existed adjacent to the market square in the old county town of Somerton, since circa 1100. So it was doubtless with some trepidation, that the PCC embarked on a major refurbishment for the church interior.
This involved replacing the floor and heating systems, rewiring and roof cleaning, a glass partition door for the south transept and a comprehensive sound system with video distribution to facilitate more flexible use of the building. API Communications were contracted to provide a full sound and visual system to meet all needs of the church.
From full frequency audio support for either a simple morning service, or full performance by musicians/singers. As well as ensuring that the solution was not out of place in a church of this age.
Solution

The sound and visual systems were designed by API Communications to meet the needs of the customer. We chose a 28 channel Allen+Heath mixing desk to control the audio sources as this is a reliable well laid out product, and a Behringer Digital graphic equaliser to provide a natural sounding flat frequency response, and a calculated delay for the rear group of the 12 loudspeakers fitted within the church.
A pair of 15" active subwoofers complemented the acoustics of our column speakers, resulting in full range reproduction, delivering excellent speech intelligibility and rich musical reproduction. The whole result is most pleasing acoustically, with many complimentary remarks so far received.
The entire audio and visual system hardware is encompassed within a custom piece of furniture, which was then clad with Oak so as to resemble the pews alongside it at the rear of the nave.
It was a given requirement of both the PCC and the Clergy that there should be the potential for the congregation to view images from PowerPoint, or DVD sources, from anywhere within the church. But with Projectors and screens having been ruled out as too intrusive visually, for this church, we installed a network whereby computer signals, video and Audio could be reproduced at a choice of 12 positions within the nave and chancel. LED display screens, fitted to trolley mounts, are then positioned at the chosen points within the nave to cover the congregation anticipated for each service.
Additional points adjacent to each doorway enable the congregation to "overspill" outside the building and yet still be involved in the service within, and a discreet camera enables all assembled to enjoy the view of a wedding procession as it moves through the nave.
As a whole this system enables the building to be most flexible with regard to the many disparate roles for which a modern church building must be equipped.

Summary

A bespoke system, providing an appropriately camouflaged audio and visual system that enables the church to do the following:-
Full frequency audio support for a morning service
Full performance by musicians/singers/choir
Ability to play PowerPoint slides, films or dvds unobtrusively from anywhere in the church
Any overspill to the congregation outside the church can still be involved in the service through the use of the additional points that were set up
The ability to now see the whole of the wedding procession through the use of a discreet camera
Testimonials

The Bath and Wells Diocesan Advisory Committee
"The Committee noted that this proposed installation will be a sophisticated, comprehensive and flexible system to enable full and up-to-date audio visual facilities within the main areas of the church. The proposal is well described technically."

Alan at Somerton
"API have provided an excellent service throughout the design and installation, careful, neat, and considerate installers who have given us what we want. We are using the system with confidence having been given full instructions regarding its use and knowing that if we meet any problems API are always on hand to answer our questions and to offer advice."
For further information visit www.apicommunications.co.uk
A lighting requirement? One church's perspective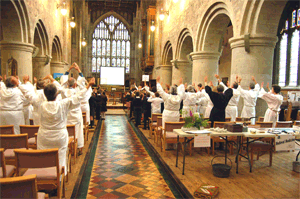 Considerations other than cost need to be made when engaging a contractor for a church lighting project.
Anthony J Smith (Gloucester) Ltd has recently completed a project to install new lighting throughout Great Malvern Priory which is part of the Greater Churches Network. The priory is a Grade I listed building and is a focal point both in Malvern and in the Diocese of Worcester.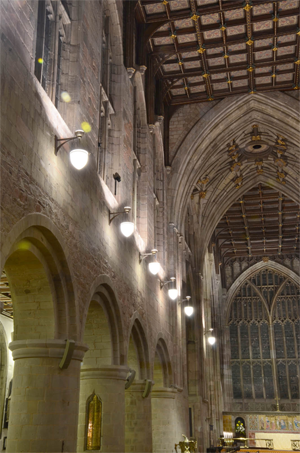 The priory receives over 30,000 visitors each year and has a large worshipping congregation. Services are held every day of the year and the building is extensively used by the local community. The challenge was to replace the 1960's lighting with a new energy efficient, low maintenance lighting installation, suitable for the many and varied activities that take place in the building, while minimising the disruption during the installation period.
A wide-ranging exercise was carried out by the Priory's Lighting Project Group to determine the requirements for the new lighting, including visiting several other churches with new lighting installations. The result was the production of a Design Brief that specified the various lighting requirements, and ensured that the primary purpose of the building as a place of worship was not lost in a desire to illuminate the features of the building.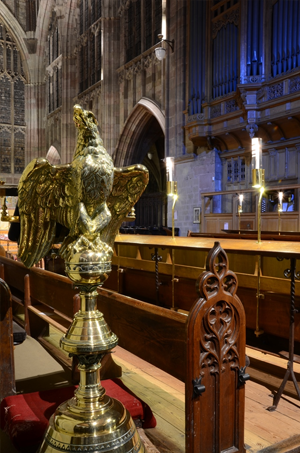 The group considered employing separate lighting design consultants and installation contractors, but chose instead to seek a company that was capable of handling the whole process including both design and installation.
Proposals based on the Design Brief were received from three companies who offer a lighting design and installation service, and Anthony J Smith (Gloucester) Ltd was subsequently appointed. Anthony J Smith was formed in 1972 and specialises in lighting church and ecclesiastical buildings.
The new lighting installation was designed by Neil Blake, director of Anthony J Smith, and incorporated energy efficient, high performance, low maintenance equipment. The design followed the Design Brief and provided for the different uses of the building including highlighting various building features for visitors, lighting for performances in various locations, and an all-important, even, non-directional layer of light through the building for services and other activities.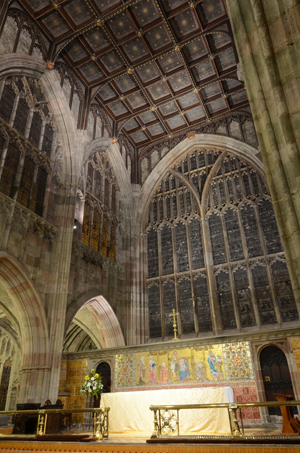 Neil was also involved in many detailed discussions with the Lighting Project Group and the approving authorities including the Diocesan Advisory Committee, English Heritage and the priory architect. As the design was refined, Anthony J Smith offered technical support and demonstrations of the effects available by using different types of light fitting.
The installation was completed by Anthony J Smith's own experienced and qualified engineers in a series of localised areas which allowed normal Ôchurch life to continue with the minimum of disturbance. Working hours and break-times were varied to suit the services, weddings and funerals scheduled for each week, and the installation was carried out with considerable attention to detail and care in concealing the cables.
The new priory lighting has been received with great excitement by both the regular congregation, who can now clearly see their hymn books, and by visitors who marvel at the ceilings and other features that had not previously been visible.
Michael Angling, the priory project manager, commented: "This was an excellent example of the contractor and client being flexible to the needs of each other which allowed the project to be brought to a very satisfactory conclusion".
The staff at Anthony J Smith (Glos)Ltd are an as experienced team as can be found working in this niche market. They have been involved in the designing and installing of tailored lighting solutions in many of our fine listed buildings both large and small for a very long time. There is no substitute for experience when dealing with these most important buildings and a good design is only half of the challenge. A sensitive installation of cabling is also of utmost importance as many Church interiors are spoilt by an untidy and unsuitable installation of cabling. Value for money and use of suitable technologies for the exacting needs of each individual Church should also be established at every stage of the project.
For more information about this and other projects visit www.anthonyjsmith.co.uk
Lighting Dynamics complete another stunning church lighting project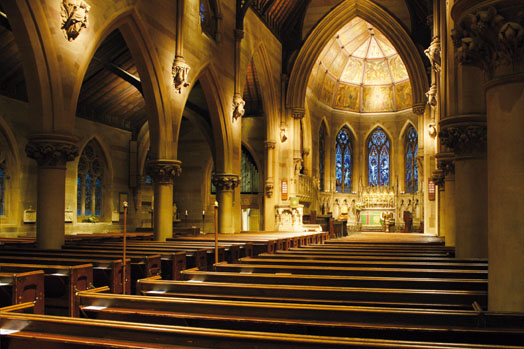 Lighting Dynamics UK, based in Sutton Coldfield, West Midlands, has recently designed and completed the installation of yet another stunning lighting project for the magnificent and sumptuous interior of St Augustine of Hippo Church in Edgbaston, Birmingham.
St Augustine's, a Grade II* building, has been a splendid Victorian landmark at the centre of the Conservation Area that bears its name since the church was first consecrated in 1868.
Gerry Browne of Lighting Dynamics said: 'The interior lighting upgrade at St Augustine's provided a real challenge, especially in terms of the correct type and levels of illumination for both the church's magnificent architectural and ecclesiastical features.'
Working closely with key members of the PCC, the DAC, the Church Architect, English Heritage and Birmingham Victorian Society, Gerry worked through all of the details and a final lighting design solution evolved.
The final lighting design included a variety of all modern, long life and energy saving light sources including LEDs, ceramic metal halide and low voltage tungsten, all of which are linked to a unique and bespoke dimming / lighting controls system.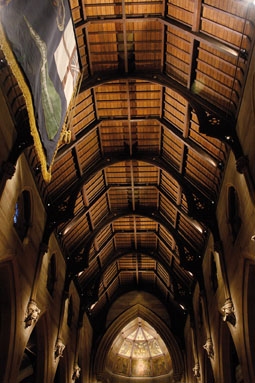 These light sources are linked to a quality range of appropriate architectural light fittings all with the correct optics and the ability to take a complete range of lighting accessories, such as anti glare louvres, spread lenses, etc.
The client and all of the project team are delighted with the final result and a grand opening ceremony by the Lord Mayor of Birmingham has already taken place.
Lighting Dynamics continue to offer a totally independent, creative, unbiased lighting design and consultancy service and, where required, the supply of all associated/specified lighting equipment.
The company can also provide a complete electrical installation service via a dedicated team of NIC EIC registered electricians.
They have a number of very prestigious church lighting projects currently in progress with a further significant number at advanced stages of planning and design.
Gerry Browne believes that this is a very exciting time in the further development of church lighting, especially with such a great and diverse range of modern light sources now coming on stream.
He has found that customers are increasingly looking for someone with the flair and experience to provide a quality lighting design, whilst also specifying top grade lighting equipment and controls that will provide longevity and reliability for their particular project.
For more from this company visit www.lighting-dynamics.co.uk
New improved lighting at St John the Baptist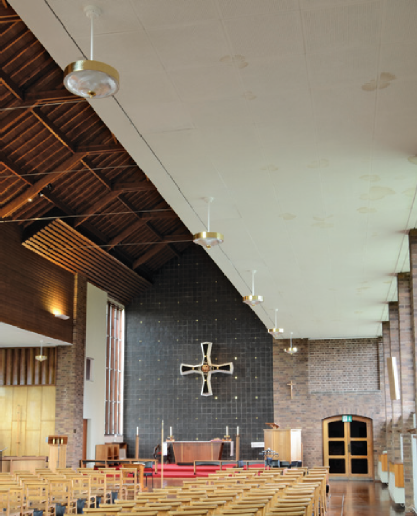 WHEN the Parishioners of St John the Baptist Parish Church in Longbridge decided that the existing lighting was in need of rejuvenation, church lighting design and installation specialists Anthony J Smith (Gloucester) Ltd were invited to discuss the needs and requirements for this vibrant community church.
The original lighting system was becoming increasingly difficult to maintain and a greater degree of energy efficiency and increased lighting levels, together with a flexible switching arrangement were needed for the various liturgical and community activities that take place within the church.
A number of solutions were discussed with and demonstrated to the PCC and a bespoke borosilicate glass pendant was developed and manufactured.
The compact fluorescent lamps within the pendant are controlled through high frequency electronic dimmable control gear which allows them to be smoothly dimmed down to 10 per cent of their maximum output, whilst providing an expected life of 15,000 hours which equates to 15 years should the lighting be used for 20 hours per week.
The pendants combined with additional nave uplighting, new lighting for the Chancel, increased lighting levels for performances at the front of the nave and with all the switches located in one position, now allow for maximum flexibility in both lighting levels and ambiance.
Gordon Mills, the buildings fabric officer writes: "On behalf of the Parochial Church Council, we are very pleased with the new lighting system. The nave uplighting has introduced a new dimension into the Church which is appreciated by the congregation as is the enhanced lighting within the sanctuary. The work to install the new system was carried out in a very neat and professional manner"
For more information visit www.anthonyjsmith.co.uk