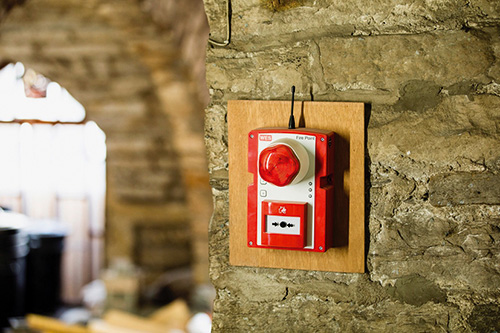 The danger of fire in ecclesiastical and other heritage buildings becomes particularly acute when building or refurbishment work is being undertaken. A major concern is that most building work in churches is undertaken while it remains fully functioning. In those situations, not having a fully compliant fire alarm system can result in unnecessary risks to the congregation and other building users.
Paul Henson, sales and marketing director at Ramtech Electronics, explained: "Fire in our ecclesiastical and heritage buildings is an ever-present danger. These types of structures are particularly vulnerable during refurbishments or new build work due to the presence of flammable materials and hot works."
Ramtech Electronics manufacture and supply the WES+ wireless fire alarm system – a system specifically designed for use on construction sites and which complies fully with the BS EN 54 standard for fire systems.
The system has been specified by St John's Episcopalian Church in Edinburgh for use during the construction of its new £3.5m Cornerstone Community Centre.
The church, built in 1818, has a vaulted crypt with confined spaces and restricted sightlines. There were specific concerns because a fire may not have been immediately visible due to the low, arched ceilings.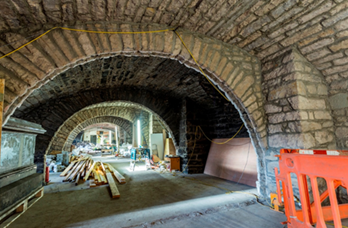 That, as well as the fact that the church remains fully functioning during the work, provided very good reasons why the church committee and contractor specified an EN 54-compliant fire alarm system.
A major factor that dissuaded them from choosing a wired system was the time it would have taken to reposition the units as building work progressed.
Said Stewart Carney, managing director of main contractor John Dennis (Scotland) Ltd: "When we sat down with our surveyors and looked at the cumulative effect of moving the wired units, it added a number of days to the schedule. A wireless system proved to be much more user friendly."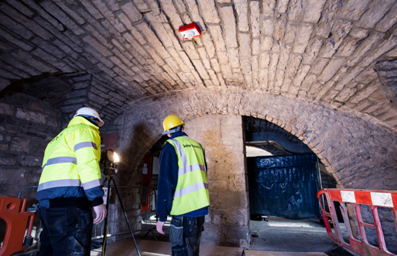 An EN 54 wireless fire alarm system is highly suited to ecclesiastical and heritage buildings because it is not necessary to drill into walls and ceilings. The ability of the wireless signal to pass through the solid materials found on site avoids the need for cabling.
In the event of a fire, the system triggers a high-volume siren and a visual strobe light, alerting personnel to evacuate the site. At the same time, the base station allows the fire officer to identify which fire point or detection unit has been activated, allowing emergency services to be deployed more effectively to the exact source.
The base station can also provide SMS text alerts in the event of an alarm being activated allowing personnel to keep tight control on fire safety when they are off site, providing 24-hour protection. Once the project is complete, the system, which has a battery life of up to three years, can be moved to the next project and reconfigured via an app.
For more information on Ramtech Electronics and WES+ visit www.wesfire.co.uk or call 0115 957 8282.