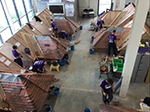 From April to July, roofing apprentices from around the UK demonstrated their skills at regional heats to gain a place at this year's SkillBuild Final, taking place on the 17th-19th November, at NEC Birmingham.
The competition, organised by the National Federation of Roofing Contractors (NFRC), saw fifty-five competitors taking part in one of eight heats, which were overseen by three judges, Matt Timby, Simon Dixon and Bob Coutts, who's vast experience of roofing competitions range from a past SkillBuild winner to a recognised mentor for the international competition: World Championship for Young Roofers.
Read more...
The Lead Sheet Association is pleased to announce the launch of a newly updated version of its Rolled Lead Sheet Manual - the biggest revamp in recent years.

The 2016 edition contains many improved drawings, a better layout and clearer tables to ensure all users get the best out of Rolled Lead Sheet. In particular, we have improved the section on ventilation, an area in which our technical team deal with many enquiries. We have created a better step-by-step approach to ensuring you get the ventilation correct in a range of circumstances – from flat and pitched roofs to dormers.

Read more...

Stealing lead from church roofs has become a lucrative operation over the past decade, and in recent years has seen more and more churches fall victim.

St Michael's and All Angels Church has been at the heart of Church Broughton in Derbyshire for over 900 years, so when the Grade 1 Listed church was attacked by thieves last year they sought a professional company to install a system to prevent this from reoccurring. The changes to their insurance policy meant they now could achieve a greatly enhanced claim cover from their Insurers.

Read more...

CompetentRoofer is the Government-licenced Competent Person Scheme that allows professional roofing contractors to self-certify that their roof refurbishment work complies with Building Regulations within England and Wales. The scheme encompasses all roofing types for domestic, industrial and commercial properties.

Cheap work has hidden cost implications

Your property is one of the most expensive and important things that you can own so risking any building work to unregistered contractors, simply because it is the cheaper option, is false economy.

Read more...

The art of woodcarving is truly international and nowhere is that better illustrated than in the career of Devon-based Laurent Robert. Born in the Auvergne region of France, Laurent began his career as an apprentice there before moving to England to continue his apprenticeship with the long-established ecclesiastical firm of church restorers, Herbert Read Ltd. While he was with them he was involved in the restoration of the organ case of St Paul's in Deptford and the refurbishment of Kensington Palace Chapel.

Read more...

The Church of Our Lady and St Peter in Aldeburgh, Suffolk sits on a hill top with stunning views of the coast below. When it was built, the church was intended to be very much in the style of the 40-odd round towered medieval churches that you find in the county, particularly along the coast.

Read more...

Kevin Taylor, a well-known figure to NFRC members as the technical officer for Slating and Tiling, has recently been promoted to head up all NFRC's technical services including flat roofing, sheeting and cladding and health and safety. Kevin has vast experience throughout the industry and a respected authority within organisations such as BSI and NHBC. He has served NFRC for over ten years and prior to this, had a long career in the industry from apprentice through to contracts manager, college lecturer and independent consultant.

Read more...

The Cathedral of St John the Baptist on the outskirts of Norwich city centre is one of the best examples of the Victorian Gothic revival in the country. St John's is the mother church of Roman Catholics in Norfolk, Suffolk, Cambridgeshire and Peterborough. It is the focus of many large diocesan occasions and, of course, the seat of the Bishops of East Anglia. Indeed, that is the origin of the word 'cathedral', which derives from the Latin cathedra, meaning chair or throne.

Read more...

The world-famous Natural History Museum in London,and its more than five million annual visitorsare being protected by intelligent fire panels from Advanced.

Often called the 'Cathedral of Nature' the Natural History Museum is renowned for its collections of dinosaurs and ornate architecture, andis widely recognised as the pre-eminent centre for natural history and related research. The Museum is the third most popular in the United Kingdom and its irreplaceable 80 million strong collection is of global importance and includes many collected by Charles Darwin.

Read more...

Situated on the River Avill the present Dunster Watermill was built around 1780. Milling however has taken place on this site for over 900 years and is mentioned in the Domesday Book. The mill is powered by two overshot wheels and is still producing organic flour today. It is currently owned by the National Trust.

Dorothea Restorations started the replacement of the missing waterwheel at Dunster during the winter of 2014/2015. The English Oak staff was selected by hand and machined down to replicate the faceted profile allowing the wedging of the nave at either end.

Read more...

By raising awareness of Boston's historic significance and encouraging investment in a series of conservation projects, Historic England has helped this Lincolnshire town to capitalise on its past.

Boston reached its zenith in the medieval period when it was the second busiest port in Britain, but decreasing wool exports led to its decline. Although enjoying a revival in the 18th and 19th centuries, by the 20th century the silting of the Haven and a shift in trade routes transformed Boston from international trading hub to remote coastal town.

Read more...

Britain's largest industry survey of its kind has exposed a lack of accreditation knowledge among those working with lead in the construction industry.

This is one of the key takeaways from the UK-wide survey of more than 250 lead merchants and end users, commissioned by Midland Lead and conducted by Firebrand Insight, an independent research consultancy.

Read more...

In architecture and interior design, woodcarving rarely exists alone. Usually it's integrated into the millwork, such as mouldings, columns, brackets and cabinetry. That means a woodcarving workshop must either be part of, or comfortable partnering with, joinery workshops and vice versa.

The working relationship between woodcarver and joiner has existed for centuries. My company, Agrell Architectural Carving, has decades of experience partnering with joinery companies using tried-and-true techniques passed down through generations of our trades. My job as account manager is to ensure our hand-carved ornamentation integrates perfectly into joinery projects.

Read more...

You can now browse and buy Harmer Cast Iron Roof Outlets online on Rainclear Systems' website. You can conveniently pay by card or Paypal with delivery to you or your site within 5 working days.

Harmer are well known for manufacturing the marketing leading range of rainwater handling and building drainage products. Now Rainclear offer the added convenience of buying them on a mobile responsive ecommerce website wherever you are and whenever you are ready.

Read more...

The award for Project of the Year in the 2015 East of England RICS Awards was won by the conservation and extension of the medieval church at Clare Priory in Suffolk. Established in 1248, Clare Priory is one of the oldest religious houses in England; situated in the shadows of Clare Castle on the banks of the River Stour.

Read more...

Holy Trinity Church, Blythburgh, Suffolk, is known locally as 'The Cathedral of the Marshes' and it stands tall, visible for miles from the A12 trunk road. Like many other churches, Holy Trinity relies on carefully designed external lighting to make its flint decorated architecture a local landmark by night as well as by day. A warm colour rendering, minimal light pollution and restricted glare were inherent factors in the design brief of this relighting project, which covered every elevation of this wonderful building.

Following a successful re-lighting of St Peter & St Paul, Wangford, which is in the same group of parishes, the design and installation team of James Laws and Boggis Electrical of Wrentham was chosen by Blythburgh PCC to re-light Holy Trinity. They selected Pulsar Light Eco-Range floods for both projects.

Read more...

All Saints' Church in Laxfield is a classic Suffolk wool church, with a long, wide nave and a superb west tower dating from the mid 15th century. The tower is 100ft high and originally built of Caen stone dressings with fine flushwork flint panels – as you'd expect to see in East Anglia – and much more unusually with large expanses of Kentish ragstone ashlar.

Read more...

A complex and sensitive re-roofing project in Surrey is amongst the first to use the Canterbury handmade clay tile range from Marley Eternit, which was re-introduced to the market to help architects and contractors achieve a genuine handmade finish when creating traditional clay roofs.

Read more...

Rainclear Systems, the UK's largest stockist and online retailer of metal rainwater systems, is pleased to introduce an innovative improvement to its already popular, contemporary, SnapIT extruded aluminium rainwater system.

All those who have seen and used SnapIT before have found its contemporary styling, simple 'bolt-less' joining guttering and swaged downpipe system an impressive finishing touch to their project. Now the system has been engineered to incorporate an even more stylish finish.

Read more...

The Honourable Society of the Inner Temple, commonly known as Inner Temple, is one of the four professional associations (Inns of Court) for barristers and judges in London. The Temple takes its name from the Military Order of the Knights Templar.

The old Buttery and Crypt date from the 14th century and are the oldest rooms still in use in the Temple. The Buttery, a Grade II* listed building, is also one of the very few 14th century secular stone buildings in Greater London. With an average wall thickness of 2400 mm, the dehydration of these walls was not possible with traditional methods.

Read more...

On June 10th, Cheshire based contract furniture specialists, Rosehill Furniture Group, set off to complete the Three Peaks Challenge. Eight courageous Rosehill team members took park in the challenge in aid of The Christie, and Action on Womb Cancer. The ultimate goal was to raise £3,000.

Read more...
<< Start < Prev 1 2 3 4 5 6 7 8 9

10

Next > End >>


Page 10 of 53